Looser Monetary Policy in Hungary Yields Results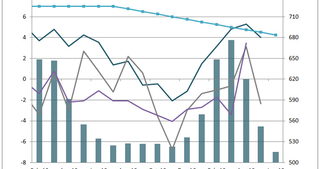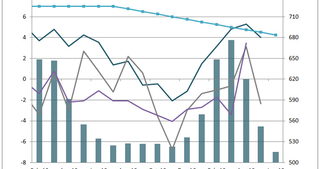 CEIC Macro Watch:
Expansionary monetary policy has been on the agenda for most central banks in the world as a response to the deflationary pressures caused by the global financial crisis. The trend continued with full force until the summer of 2013 when the US Federal Reserve stated that the third round of its Quantitative Easing bond buying programme will slowly come to an end. Across the Atlantic, however, the European Central Bank held its policy rate at 0.5% at its latest meeting on 4th July 2013. Similarly, the Central Bank of Hungary continues to maintain an expansionary stance initiated in August 2012, when policy rate cuts began. Starting at 7% in July 2012, the policy rate has been lowered every month by 25 basis points; as of its latest cut on 26th June 2013, the base interest rate stood at a record low level of 4.25%. Weak inflationary pressures and an economy still in recession triggered the rate cut decisions.
Following the fall in the policy rate, the money supply (M2) started rallying since the end of 2012 and reached HUF 15,372 billion by May 2013, representing 4% year-on-year growth. Increased liquidity has coincided with improved industrial production; the seasonally-and-working-day-adjusted (swda) Industrial Production Index (IPI) started recovering from critical lows observed in November 2012 when it contracted by 7.04% year on year. In April 2013 the growth in IPI reached 3.2%, followed by a decline of 2.3% in May 2013. Major drivers of Hungarian IPI are the transport equipment industry and the manufacturing of chemical products increasing respectively by 10% and 13% in May, despite the overall contraction of industrial output. Retail sales volumes swda also started to recover at the end of 2012 and in April 2013 surged by 3.5% year on year. Drivers of the retail sales revival are food, beverage and tobacco products, and automotive fuel sales, which surged respectively by 3.1% and 6.4% year on year. The Hungarian labour market has also seen a slight improvement in May 2013 when registered unemployment dropped to 515 thousand people, a decrease of 3.6% compared to May 2012. Although it is subject to seasonality, the registered number of unemployed persons in May 2013 reached an unprecedented low level last observed at the beginning of 2009. Unemployment benefit recipients followed the same trend, falling to 41.2 thousand in May 2013, down from 53.8 thousand in the same month of the previous year. There is still room for policy rate cuts, since the inflation rate in June 2013 is 1.9%, which is well below the target of 3% set by the Central Bank. However, economic activity does not solely depend on the increase in money supply. Therefore, in times of low demand across the European Union, a gradual restructuring of the economy is needed in order to meet the needs of the European single market.
Discuss this post
and many other topics in our
LinkedIn Group
(you must be a LinkedIn member to participate). Request a
Free Trial Subscription
.
By Petar Chavdarov - CEIC Analyst
Back to Blog