Japan-EU Economic Partnership Agreement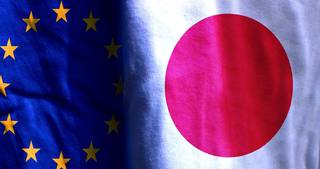 The EU and Japan have recently decided upon a trade agreement which will change the landscape of international trading around the world from as early as 2019.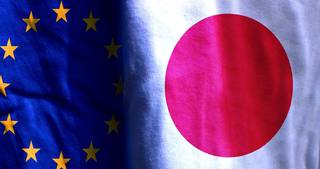 On July 6th, Japan and the European Union announced that they had achieved an agreement on an economic partnership that would form a free-trade zone between the partners as early as 2019. The agreement, called JEEPA (Japan-EU Economic Partnership Agreement) is between the economies, currently ranked 2nd (EU) and 4th (Japan) in terms of nominal GDP and is described as the largest and most important bilateral trade deal ever made as it will cover nearly 30% of the world economy.
The two parties had already established important trade connections and as of 2016, 10-12% of Japan's imports and exports were tied to the EU, making it Japan's 5th largest trade partner. The figures for the EU are a bit more modest with around 3-4% of the EU's trade being with Japan. Japan's most important European trade partner, both in terms of imports and exports is Germany – in 2016 German imports were valued at 19.9bn EUR and exports to the biggest EU country amounted to 15.9bn EUR. The other important export destinations in the EU are the UK, Netherlands, France and Belgium, while significant imports come from France, Italy, the UK and Ireland.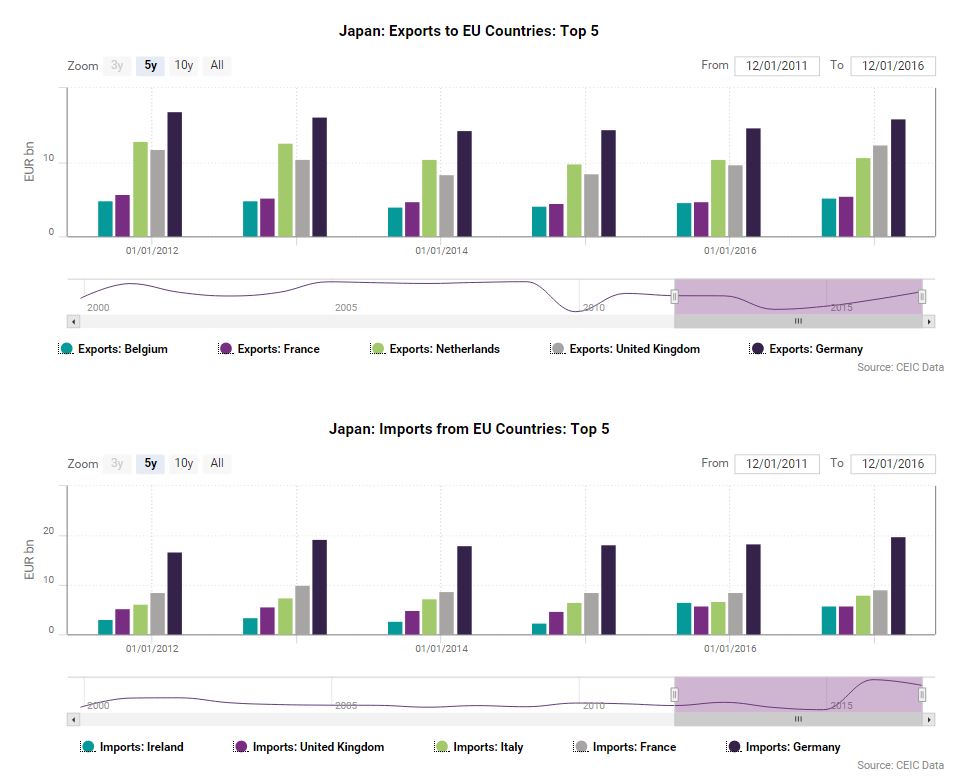 In terms of the agreement itself, its aim is to increase the flow of Japanese motor vehicles (especially cars) and electric appliances to the EU and the flow of EU-produced food products to Japan. The EU is expected to discard its 10% tariff on Japanese cars over the period of seven years while Japan will ease its restrictions on food, especially dairy products, wine and pork. For a long time Japanese car manufacturers have expressed their dissatisfaction with the participation in the European market (deeming it relatively low compared to their sales in USA or Asia). On the other hand, the high tariff on foreign dairy products in Japan (almost 30%) has made it extremely difficult for European companies to penetrate the market.  Overall, the agreement has the goal to eliminate almost entirely all trade barriers between the parties, which currently amount to around 1bn EUR annually.
With the USA withdrawing from the Trans-Pacific Partnership (TPP) in January 2017, Japan is looking for alternative markets as well as ascertaining its stance against protectionism. Meanwhile, the EU is actively trying to become more engaged globally and send another positive message about its engagement to free trade after achieving a similar trade agreement with Canada (CETA) earlier this year.
This analysis was undertaken using the Global Database which is accessible through CDMNext. For those who aren't customers, try a 10 day free trial to gain access to CEIC Data.

Country