Japan's Demographic Woes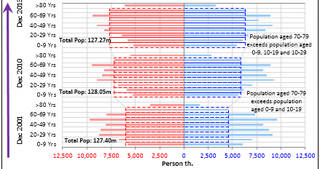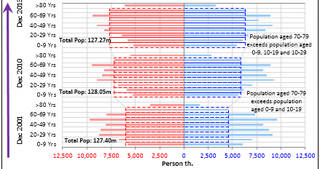 CEIC Macro Watch - January 30, 2014 -
Japan's population continued to decline during 2013. The total population as of December 2013 amounted to 127.27 million, a decline of 222 thousand. Japan's population growth stagnated somewhat from 2008 to 2010 before declining by approximately 265 thousand and 295 thousand during 2011 and 2012 respectively.
This declining trend has been exacerbated by Japan's 'greying' population. The declining birth rate (live births declined to 8.2 per 1,000 population during 2012 and 2013, from 9.3 during 2001) has resulted in a Japanese Lantern-shaped demographic pattern (a larger top among the older cohorts, compared to the base), questioning Japan's ability to support its aging population in the long term.
By Ian Lim in Malaysia - CEIC Analyst
Discuss this post
and many other topics in our
LinkedIn Group
(you must be a LinkedIn member to participate). Request a
Free Trial Subscription
.
Back to Blog