Indonesia Property Market Heats Up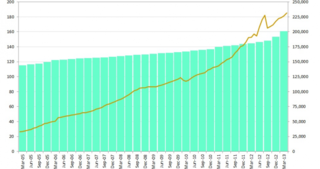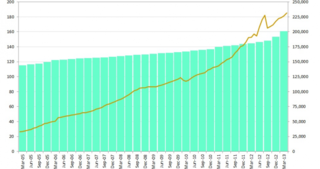 CEIC Indonesia Data Talk:
Residential property prices rose sharply in Indonesia during 2012 according to the Residential Property Survey conducted by Bank Indonesia (the central bank), notably during the second half of the year. The growth in residential property prices (based on an index of 14 major Indonesian cities) was largely attributable to rising material and labour costs, along with increasing difficulty in bearing licensing costs. Residential property prices accelerated during the first quarter of 2013. The index increased by 4.78% quarter-on-quarter, compared to 3.81% during the fourth quarter of 2012 (translating into 11.19% year-on-year growth after rising by 6.99% during the fourth quarter of 2012). Previously (from the first quarter of 2008 onwards), the growth in residential property prices hovered around the 2%-5% range. The increase in prices was most evident for small residential properties, with a rise of 8.30% quarter-on-quarter during the first quarter of 2013 compared to 4.95% growth in the index during the fourth quarter of 2012. More prominently, in the Jabodetabek-Banten area (in and around Jakarta), small residential property prices grew by as much as 11.33% quarter-on-quarter during the first quarter of 2013. The higher growth in small houses was boosted by the introduction of subsidised housing loans for low income households.
As a result of a growing "seller's market", housing loans have started rising again since September 2012, when loans fell in light of an imposed restriction in the form of a maximum loan-to-value ratio to avert possible bubbles in the housing market. Total property loans (for house and apartment ownership) by commercial and rural banks rose to IDR231.39 trillion during March 2013, compared to IDR206.29 trillion during August 2012 which marked a low-point following a 9.3% month-on-month drop. Relatively low interest rates have made Bank Indonesia more wary of further growth in asset prices, especially when it is fuelled by speculation. Based on surveyed expectations of residential property prices, growth in the sector is expected to ease marginally during the second quarter of 2013, though Bank Indonesia is expected to monitor rises in asset prices closely in light of the global economic climate to manage any downside risk from growing property lending.
Discuss this post
and many other topics in our
LinkedIn Group
(you must be a LinkedIn member to participate). Request a
Free Trial Subscription
.
By W. Meytha - CEIC Analyst
Back to Blog