Indonesia's Prosperity Sparks Tussle for Higher Wages
Indonesia Data Talk:
Indonesia's minimum wages have seen a large spike recently, jumping by 19.1% during 2013 to IDR1.30 million (USD116.04). The sharp rise in minimum wages was most evident in Jakarta and East Kalimantan which saw minimum wages rising by as much as 43.87% and 48.86% respectively to IDR2.2 million (USD162.95) and IDR1.75 million (USD125.42) during 2013. The average minimum wage increase was one of the largest reported in recent years. At present, Indonesian workers earn an average monthly wage of approximately IDR1.44 million (USD153.61) as of 2012 with average monthly wages in the manufacturing sector of IDR1.34 million (USD142.38) during the same period. The government's decision to adjust its minimum wages upwards occurred as labour groups demanded a larger share of the country's relative prosperity – Indonesia reported real GDP growth of 6.11% during the fourth quarter of 2012, resulting in 6.23% annual growth in 2012. Labour groups have further argued that Indonesia's recent growth has resulted in higher inflation, hence reducing purchasing power. Indeed, consumer price inflation has started rising again from a low of 3.56% year on year in February 2012. By February 2013, inflation had accelerated to 5.31%, edging dangerously close to the upper limit of the 2013 inflation target (4.5% ± 1%). Inflation was slightly more pronounced in the capital city of Jakarta, which saw prices rising by 5.44% during February 2013. Inflation in certain parts of East Kalimantan (particularly Tarankan and Balikpapan) rose as high as 6.06% and 6.19%, respectively, during the same period.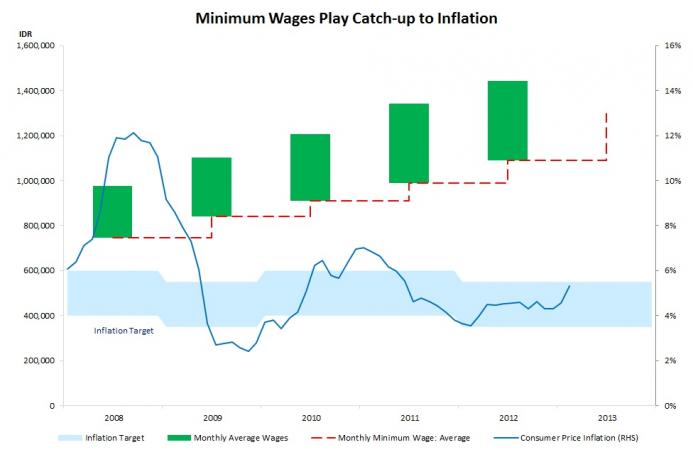 However, despite the announced increase in its minimum wages, higher wages have been delayed in some labour-intensive industries, as employers argue that the sudden increase in the legislated minimum wage may result in massive layoffs and erode Indonesia's advantage as a low labour cost destination for foreign investors. This, as employers argue, will put a brake on Indonesia's respectable growth rates in excess of 6% since the fourth quarter of 2010 and damage Indonesia's labour market overall. While Indonesia has enjoyed declining unemployment rates over the years from a peak of 11.24% as of August 2005 to 6.14% as of August 2012, its unemployment rates remain high relative to its regional counterparts. Proponents of higher minimum wages argue that delays in implementing them threaten the credibility of the administration and exacerbate income inequality in the country. Indonesia's Gini Coefficient Index remained unchanged at 41% in 2012 after rising for three consecutive years during 2009-2011 from 35% in 2008. This, in turn, risks provoking further rounds of protests; labour movements have begun demonstrations against the government's move to grant a temporary reprieve on the minimum wage rise to certain industries.
Discuss this post
and many other topics in our
LinkedIn Group
(you must be a LinkedIn member to participate). Request a
Free Trial Subscription
.
Back to Blog