Indonesia's Fuel Imports Worsen Trade Deficit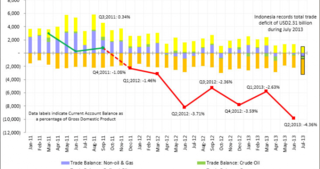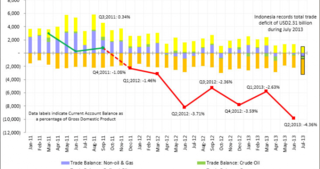 CEIC Indonesia Data Talk:
Indonesia's merchandise trade deficit hit a recent high of USD2.31 billion during July 2013, compared to just USD877 million during the previous period. The increased trade deficit is attributable to a higher oil and gas import bill –particularly concerning imports of refined oil – during July 2013. Indonesia imported approximately USD4.14 billion of oil and gas related merchandise, compared to just USD3.53 billion during the previous month. The trade deficit attributable to oil and gas surged to USD1.85 billion during July 2013 (accounting for approximately 80.32% of the total trade deficit) from USD730.64 million during the previous month; the deficit is solely due to oil, as Indonesia remains a net exporter of gas. Higher fuel import bills worsened as a result of prices increasing in response to uncertainties in the energy market, especially in light of the possible military action in Syria which would likely disrupt the oil supply chain in the Middle East.
Higher trade deficits are expected to place further strain on Indonesia's balance of payments and currency woes. Its current account deficit stood at approximately 4.36% of GDP during the second quarter of this year, up from 2.63% during the previous quarter. At the same time, the Indonesian rupiah depreciated to IDR10,924/USD as of the end of August 2013 from IDR10,278/USD during the previous month. The pressure on the rupiah has further manifested in dearer import prices– the wholesale price index (WPI) on imported goods rose by 7.62% year-on-year in July 2013, up from 6.23% and 2.89% during June and May 2013 respectively, and compares to the overall year-on-year WPI growth of 5.76% during July 2013. Recent moves by the Indonesian administration were expected to help manage fuel imports. They include the reduction of fuel price subsidies since 22 June 2013, which saw premium fuel prices rising to IDR6,500/litre compared to IDR4,500/litre a month ago, as an aid to limiting import demand. More recently, the government has sought to raise the contribution of domestic biodiesel to accommodate at least 10% of the country's energy requirement – the Energy and Mineral Resources Ministry expects to reduce diesel imports by approximately 100,000 barrels daily as a result of this measure. While the government's attempt to cool demand for petrol-based fuel may yet bear fruit, volatility in energy prices–owing to increased political turbulence in the Middle East – and the general delay in switching to other forms of fuel may see Indonesia's trade deficit persist. However, the central bank expects the depreciation of the Rupiah to help improve competitiveness in some of Indonesia's industries, hence ameliorating the trade balance in the coming months.
By Meytha Wendharti
- CEIC Analyst
Discuss this post
and many other topics in our
LinkedIn Group
(you must be a LinkedIn member to participate). Request a
Free Trial Subscription
.
Back to Blog