"Make in India" Initiative Brings Manufacturing Up to Speed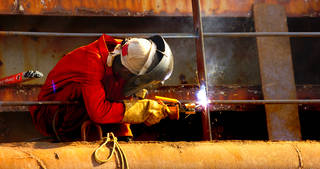 Manufacturing is one of the fastest growing sectors in India and has experienced an increasing importance in recent years. As of 2016, manufacturing has contributed to 17.8% of total gross value added and 36% of the total economic output of India.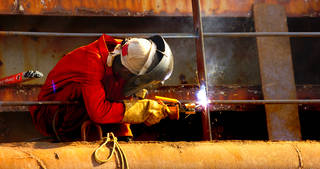 By Georgi Ninov - Research Analyst
India ranks among the top 10 biggest manufacturers in the world and is a leading producer in sectors such as automobiles, metal & steel, textile and chemicals. Manufacturing employs a significant amount within India - 13.9 million as of 2015 – a 64.4% increase in the last 10 years.
The government has been actively pushing forward manufacturing with different projects and initiatives, most notably the Make in India initiative. Their goal is to increase manufacturing's role up to 25% of India's GDP by 2025 as well as to create up to 90 million jobs in the sector. The Make in India initiative was launched in September 2014, with the goal to encourage national and international companies to invest in manufacturing in India and thus boost direct investment, job creation and technological investment. 25 sectors of the country's economy are targeted, the key ones being automobile, electronic systems and machinery, chemicals and pharmaceuticals, railways, defence manufacturing and textiles. In almost all of the sectors, 100% FDI is permitted – therefore making India one of the top investment targets for 2015 and 2016.
Since 2015 the pace of manufacturing growth almost doubled to about 10%, compared to the 5.7% average growth rate recorded in the previous two years. In 2016 India's GDP grew 7.1% which is the strongest by any major economy, surpassing China (6.7%) for a second year in a row. The growth for Q4 2016 was estimated at 6.96% which came as a bit of surprise given the monetary shock caused by the November 2016 demonetization.
The IMF forecasts that India will continue its strong growth in the following years with figures between 7% and 8% for the period 2017-20. Favorable demographics, cheap labour and market reforms are contributing to the economic boom.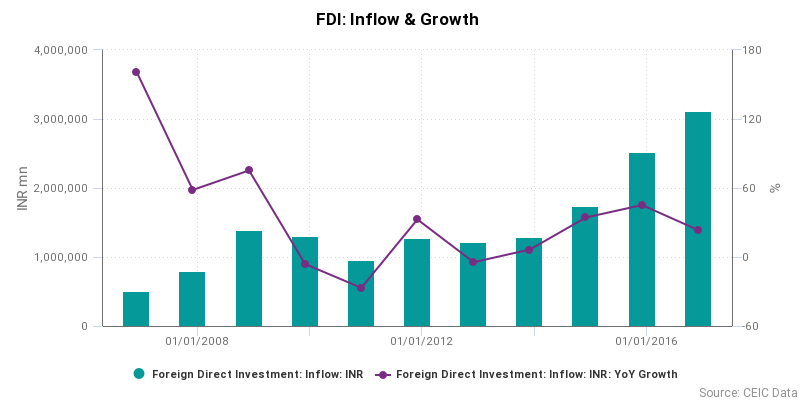 For more information on India manufacturing check out the insight analysis on CDMNext. For those who aren't customers, explore ways you can gain access to CEIC Data.
Country
Industry