Incredible Growth Opportunities for Indonesia's Hotel Industry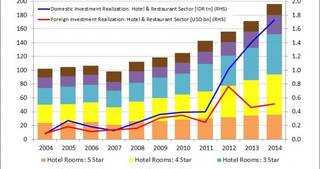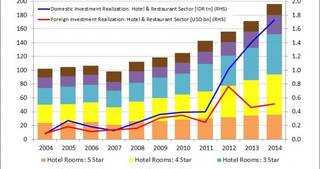 CEIC Indonesia Data Talk - February 23, 2015
Indonesia's hotel industry has enjoyed major expansion since 2011 with the growth of the number of hotels reaching between 9% and 14% every year, according to the Central Bureau of Statistics, a pace last seen during 1991-97. This momentum continued in 2014 with another year of strong growth (12.26%), achieved with a rising number of hotels to 1,996 units compared to 1,778 units in the same period of 2013. However, much of this growth has arisen from catering to the middle-segment of the market, namely the 2, 3 and 4 star hotels. Out of the total number of hotels in 2014, 33.47% comprised three-star hotels, up from a 30.69% share in 2011, followed by two and four-star hotels accounting for 21.89% and 18.83% of the total respectively, up from 19.48% and 16.92% over the same period. Conversely, the relatively slow increase in number of hotels in the budget and luxury ends of the market saw the share of one-star hotels falling to 17.79% in 2014 from 24.24%, and five-star hotels to 8.02% from 8.66%, diminishing their already smaller presences in the market.
In line with the high growth of hotel construction throughout Indonesia, the total number of hotel rooms grew in 2014 at its fastest pace since 1997, rocketing to 195.89 thousand units, a 14.26% increase from 2013. However, in terms of quantity of hotel rooms, the primary revenue base of the sector, three-star hotels which take up the largest share of total number of hotels do not have the highest quantity of rooms; in other words there are many more of these hotels, but they are smaller. Four-star hotels on the other hand are fewer in number, but larger, accounting for 29.81% of total hotel rooms in 2014 despite being only the third largest in terms of number of hotels. In addition, five-star luxury hotels, of which there are even fewer catering to a niche, high-end corporate and wealthy tourism market, supply the third largest number of hotel rooms (18.19% of the total in 2014).
The high demand for accommodation facilities is bolstered primarily by Indonesia's position as one of Asia's most popular tourist destinations, receiving 9.44 million foreign visitors in 2014, resulting from growth of 7.19% compared to the previous year. In particular, visitors arriving in Indonesia through Bali, a famed tourist destination, contributed to 39.55% of total visitor arrivals in 2014. Visitor arrivals through Bali even far exceeded the arrivals through the port of its capital city Jakarta, which has a share of 23.81% of the total. The continuously growing tourism industry is stoking the demand for hotel rooms, which is creating noteworthy growth in Indonesia's hotel industry.
The rapid expansion of the hotels sector can also be attributed to the good market growth prospects and favourable investment regulations affecting domestic and foreign hotel developers seeking to take advantage of the sector's huge opportunities. Investment realization in the hotel and restaurant sector experienced a steep upward shift between 2012 and 2014 compared to investments in prior years, an elevated situation last seen between 1994 and 2001 when the number of hotels and hotel rooms were also booming. Statistics from Indonesia's Investment Coordinating Board show that domestic investment realization of the hotel and restaurant sector surged to IDR 1.02 trillion in 2012 from IDR 394.44 billion in the previous year, before continuing its ascent to IDR 1.73 trillion in 2014. Foreign investment realization too encountered a steep rise of USD 525.92 million to USD 768.16 million in 2012 before declining moderately to USD 462.52 million in 2013 and USD 513.07 million in 2014. In the first half of 2015, Accor Group – one of the leading hotel operators in Asia Pacific with 90 hotels throughout Indonesia alone under its various brands: All Seasons, Formulae 1, Ibis, Mercure, Pullman, Novotel, – unveiled a plan to construct at least 6 new hotels in Bali, Jakarta, Makassar (South Sulawesi) and Surabaya (East Java). In addition, the hotel management chain of Swiss-Belhotel has allocated IDR2.4 trillion for constructing around 20 hotels in the coming years amid the continuously-high demand for hotel accommodation.
Moving forward there are tremendous opportunities for the economy and for expanding the mid-scale hotel categories catering to the rapidly-growing market. The influx of low-cost airlines in Indonesia has enhanced connectivity and affordability of travel, leading to larger demand for tourism and hence demands for hotels in Indonesia. This growth will provide the country's economy with valuable tourism revenue, especially given that accommodation contributed to 48.91% of total tourism revenue (measuring USD 4.92 billion) in 2014
By Yudha Prawira - CEIC Analyst
Discuss this post and many other topics in our LinkedIn Group (you must be a LinkedIn member to participate). Request a Free Trial Subscription.