Import Curbs Raise Food Prices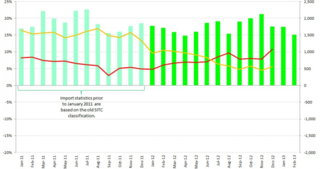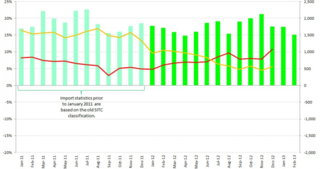 CEIC Indonesia Data Talk:
Import substitution of food products in Indonesia has seen persistent increases in food prices since mid-2012, reminiscent of the 2008 food price shock. Then, food prices rose drastically, with the food component of the consumer price index rising in excess of 15% from the second quarter of 2008 to the end of that year. This, in turn, resulted in an accelerating headline inflation rate; overall consumer price inflation exceeded 10% from June 2008 to December 2008 (exceeding Bank Indonesia's target at the time of 5% ± 1%) – inflation subsequently fell below Bank Indonesia's 2009 target (of 4.5% ± 1%) owing to a slowdown in the economy. As of April 2013, the food component of the consumer price index rose by 11.91% year-on-year. The recent (2012 to present) rise in food prices was especially pronounced in the categories of beef, scallop, smoked fish, crawfish and garlic, among others. According to the National Bureau of Statistics, average rural prices for beef rose to IDR 78,004/kg during December 2012 from IDR 70,441/kg during December 2011. As of March 2013, the retail price for beef had risen to IDR 84,301/kg, showing no signs of easing after the Hari Raya Qurban Muslim holiday festivities.
Soaring food prices have occurred as the government has sought to reduce Indonesia's reliance on food imports owing to its experiences of food shortages in 2008, and alleged violations of food labelling and safety regulations. This has been achieved through various import restrictions on food (including taxation, licensing quotas and tighter regulatory checks), while increasing taxes on food exports. As a result, imports on food and other livestock have declined over recent months. The volume of total food and livestock imports declined in February 2013 for the third consecutive month, on a year-on-year basis, falling by 11.88% to 1.51 billion kilogrammes. The downward trend is most evident where just livestock is concerned, which declined for a sixth consecutive month during February 2013, to just 8.96 million kilogrammes, which compares with 16.16 million kilogrammes in February 2012. Critics of the import restrictions argue that while they may help to support the domestic agricultural sector, they also lead to increasing food prices, to the detriment of poorer Indonesians. Indeed, these restrictions have encouraged unscrupulous practices of substituting or mixing beef with other meat. In the longer term, these protectionist policies risk sparking regional trade wars; Australia, Thailand and New Zealand have expressed increasing dissatisfaction over these restrictions of late.
Discuss this post
and many other topics in our
LinkedIn Group
(you must be a LinkedIn member to participate). Request a
Free Trial Subscription
.
By W. Meytha - CEIC Analyst
Back to Blog