Hungarian Real Estate Market Gaining Pace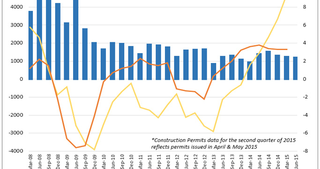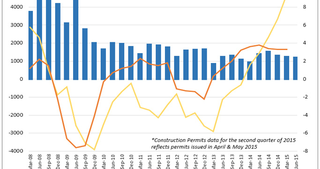 CEIC Macro Watch Global #46 - July 31, 2015
For more than five years since the last quarter of 2008, real estate prices in Hungary were gradually falling. The prolonged negative trend continued until the first quarter of 2014 when increasing demand for property, both in the commercial and residential segments meant that property prices began growing again. Since then house prices growth rate has been accelerating, reaching almost double-digit year-on-year (YoY) growth of 9.4% in the first quarter of 2015. In the first five months of the year new construction permits issued for residential buildings increased by 35.1% YoY, while construction production value grew by 10.2% YoY.
On the other hand, some parts of the housing sector are less buoyant. For instance, the share of newly-built homes on the market remains low, due to a 6.6% annual decline in new dwellings built during the latest quarter (Q1 2015), although this is likely to fuel rather than subdue the market boom (by restricting supply). Meanwhile, mortgage loans declined for three consecutive months from March to May signalling slower demand, though it may only be a temporary lull. Indeed, despite these weaker aspects, the recovery of real estate price rises is expected to continue throughout the year. The rebound to date has been underpinned primarily by falling mortgage borrowing rates that are the consequences of the Hungarian National Bank's (the central bank) massive monetary easing programme, through the cutting of its main intervention rate. This has improved not only home loan conditions, but also caused a drastic fall in interest rates on bank deposits, discouraging saving. In May 2015, the average interest rate on new mortgages dropped to 6.6%, while the average interest rate on new deposits slumped to the historically low level of 1.15%, compared to 1.89% in the same month of the previous year. Thus, in the quest for more lucrative returns, depositors have found better options on the residential property market. The Family Housing Grant Scheme – the government's housing construction and home purchase programme, launched this year, will moreover give further impetus to the real estate market rebound. The favourable economic environment, underpinned by the fall in interest rates, will also improve conditions in the property market. Last year, real GDP showed an impressive increase of 3.5%. In 2015 and 2016 economic growth is expected to slow down to a still relatively solid 2.7% and2.3% respectively, according to the IMF's forecasts, but the strong 3.3% YoY real GDP growth in the first quarter of this year suggests that the economy might perform above expectations, boosting employment and giving the property market even more lift.
By Kamen Parushev in Bulgaria - CEIC Analyst
Discuss this post
and many other topics in our
LinkedIn Group
(you must be a LinkedIn member to participate). Request a
Free Trial Subscription
.
Back to Blog