Higher Production of Top Companies Pushes Up Cement Sales Volume by 57% in September 2013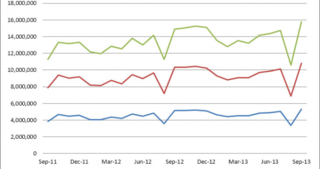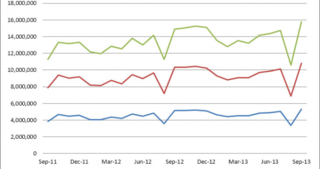 CEIC Indonesia Data Talk:
Indonesia's cement sales volume posted a strong performance in September 2013, with growth of 5.65% year on year (YoY) to 5.47 million tons, according to statistics from the Indonesia Cement Association. In August, sales volume declined by 2.6% YoY to 3.5 million tons – its lowest production level since early 2011, due to the long Eid-ul-Fitr holidays and the weakening Rupiah, which traded at IDR10,924/USD in August 2013 compared to IDR9,698/USD in January. Along with the growth in cement sales, statistics from the Indonesia Cement Association reveal higher cement production by several of Indonesia's largest cement manufacturers. PT Indocement Tunggal Prakarsa – which has initiated the construction of a brown-field cement factory (the Plant 14 project) in Citeureup, West Java, scheduled for completion in 2015 – increased its production by 10.45% YoY to 1.6 million tons in September 2013. PT Holcim Indonesia Tbk – which is constructing a second cement plant (Tuban II) in Tuban, East Java, to boost its production by 12.5 million tons per year – saw its production fall by 2.96% YoY to 699,719 tons in September 2013. However, the company, which is the largest owned and managed by Swiss-based Holcim Group, escalated its production capacity by 32.04% month-on-month from 529,916 tons in August 2013. Another cement manufacturer, PT Semen Indonesia (Persero) Tbk – which has a plan to develop a new cement plant in Kupang, East Nusa Tenggara – increased its production by 11.71% to 1.20 million tons in September 2013, compared to 1.07 million tons in the same period of last year.
Growing cement sales volume is supported by increasing demand, as reflected by the escalation of cement consumption within the country, which increased by 3.21% YoY to 5.3 million tons in September 2013. Cement consumption was weaker in August 2013 owing to seasonal factors, but the year has seen some volatility with consumption declining to 4.65 million tons in January 2013 before rallying since March 2013. Nonetheless, the statistics from the Indonesia Cement Association reveal that cement consumption has trended higher since 2000. Annual statistics reveal that cement consumption rose to 54.9 million tons in 2012 from 47.9 million tons in 2011, but it was only 40.8 million tons in 2010. The expansion of the construction sector contributed to the growth of cement sales in September 2013. The National Bureau of Statistics reports solid growth in the housing market, with 10,555 units of housing built during 2012 compared to 9,675 units in 2011. These figures are expected to continue rising as Indonesia's growing population necessitates increased housing construction. In 2013, the population grew by 1.29% to 250.4 million from 247.2 million in 2012. In fact, the market remains optimistic regarding the performance of Indonesia's cement producers, which is reflected in the higher sales of cement during September 2013. Supported by the strengthening currency, the sales of cement are expected to continue growing over the coming months. Currency appreciation would help lower the cost of raw materials, hence reducing overall production costs. This, in turn, would give greater scope for producers to lower prices, potentially boosting sales volume. Furthermore, amid several plans of the companies to construct new cement factories, the national production capacity of cement is also projected to increase to meet the growth of cement demand, underpinned by the construction sector.
By Meytha Wendharti
- CEIC Analyst
Discuss this post
and many other topics in our
LinkedIn Group
(you must be a LinkedIn member to participate). Request a
Free Trial Subscription
.
Back to Blog