Germany experiences positive outlook for May
A wave of optimism is currently dominating the German economy, with various research institutions reporting high values of economic and business sentiment.
By Georgi Ninov - Research Analyst
The Center for European Economic Research's (ZEW) Financial Market Survey shows that 84.4% of the interviewed financial experts assess the current economic situation as "Good" – the best result since July 2011, and 30.8 percentage points higher than the same month in the previous year. In addition to this, only 0.5% consider the economic situation "Bad" while for the remaining 15.1% see it as "Normal".
The Ifo Institute for Economic Research Business Indices also reflect on the positive development of the German economy. The Business Climate Index reached a record high of 114.6 for May 2017 while the Business Situation and Business Expectations Indices also surged with 123.2 and 106.5 respectively (with base year 2005=100). The strongest driver for the Business Climate Index was undoubtedly the climate in manufacturing which rose 8.8% compared to May 2016, with industries such as consumer goods and construction also contributing significantly.
These sentiments are not surprising given the economic performance of the country as of late. Real GDP grew for a sixteenth quarter in a row in Q1 2017, exports increased by 5.5% for the same period and inflation grew by 1.7% in April, close to the ECB target of 2%. Unemployment rate as of March remained low at 3.9% which is considerably below the EU average of 8%. A decrease in political risks can also be listed as a factor – German chancellor Merkel's party, CDU, has performed strongly in regional elections ahead of the federal vote in autumn this year. Moreover, the defeat of populist candidates in the Netherlands and France has solidified the stable outlook of the Eurozone as a whole.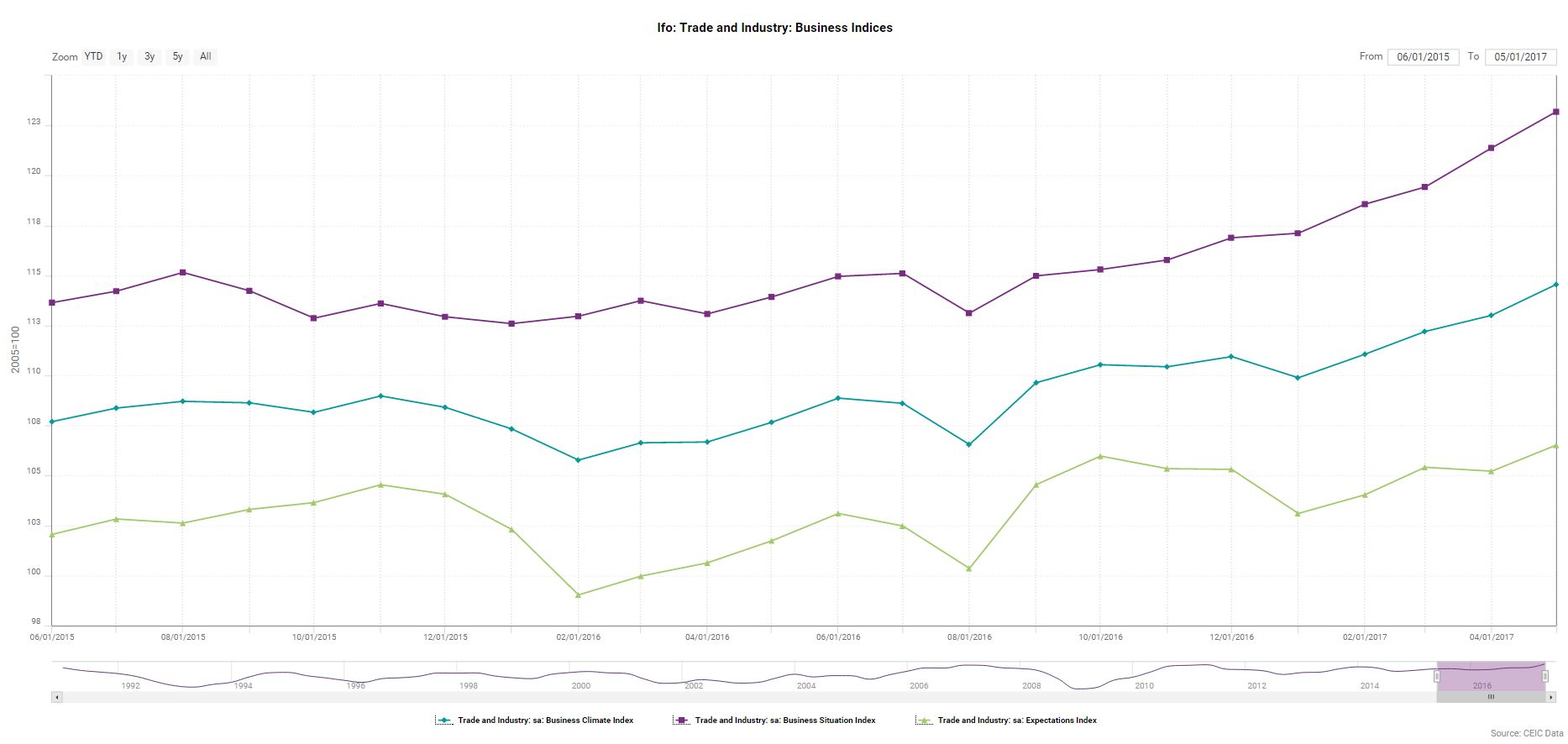 This post was written using the CEIC Global Database, which can be accessed through CDMNext. For those who aren't customers, try a free 10 day trial to gain access to CEIC Data.

Country