GEM Newsletter: Weakening Economic Growth in Latin America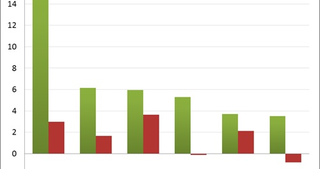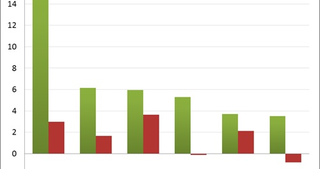 CEIC Global Economic Monitor: WorldTrend Database - October 2014
Real GDP growth began to slow in most of the Latin American economies in 2014. Argentina and Brazil both experienced negative year on year (YoY) growth of -0.1% and -0.8% respectively in the second quarter of 2014. Argentina's growth woes have been exacerbated by rising inflation and its recent debt default, the latter impeding access to the international capital markets. Meanwhile, despite being the host for the World Cup, Brazil's growth performance was further impaired by a lack of confidence in Brazil especially within the financial sector over its weak infrastructure expenditure and political flux given elections uncertainties prior and towards October 2014. Due to their weakening terms of trade, both Paraguay and Peru have registered a deceleration in economic activity. Paraguay's economic growth slowed to 3% YoY in Q2 2014 compared with a double digit increase of 15.3% YoY in the same quarter of the previous year. Peru's GDP growth weakened from 5.1% YoY in the first quarter of 2014 to 1.7% YoY in the second quarter. The slowdown in Peru's economy comes as a result of an unexpected decline in mining output stemming from lower mining investment.
GEM Highlights
China recorded Consumer Price Index YoY Growth of 1.6% in September 2014, its lowest point since January 2010.
In the second quarter of 2014, Hungary's Unemployment Rate decreased for the 5th consecutive quarter, reaching its lowest level (8%) since the fourth quarter of 2008. The Unemployment Rate for the European Union stood at 10.1% in August 2014.
A better investment climate meant the Philippines recorded a larger Foreign Direct Investment inflow of USD 4.0 billion in July 2014 compared to USD 2.6 billion during the same month of the previous year.
The European Central Bank decreased its Main Policy Interest Rate to an all-time-low of 0.05% in September 2014. The Consumer Price Index for the Euro Zone increased by 0.3% YoY in the same month. 9 out of 18 of the participating countries had a negative CPI Growth Rate (i.e. deflation), with Cyprus recording the biggest fall of -0.9% YoY.
Australia's Unemployment Rate is the second-worst in Asia, behind the Philippines, though its labour force numbers have been volatile in recent months. The unemployment rate decreased to 6.1% in August 2014 from a 12-year high of 6.4% in July. The economy added 121,000 jobs, the highest monthly gain on record, driven by part-time employment.
Discuss this post
and many other topics in our
LinkedIn Group
(you must be a LinkedIn member to participate). Request a
Free Trial Subscription
.
Back to Blog