GEM Newsletter: Tougher November for Latin American Equity Markets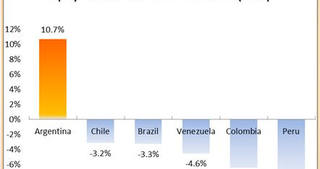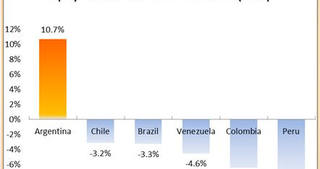 December 27, 2013 Some of the worst month-on-month (MoM) equity market losses this November were seen in South America. Peru's IGBVL dropped 6.9% in just one month. Due in part to falling metal prices the index has experienced a 24% year-on-year (YoY) decline, one of the largest downturns globally. Colombia's COLCAP Index and Chile's IPSA also fell in November, by 6.5% and 3.2% respectively, on a MoM basis. In the largest economy on the continent, the downward trend in Brazil's BOVESPA Index persisted, losing 3.3% MoM and 8.7% YoY.
Venezuela's Caracas Stock Exchange General Index also saw a similar decline in November, dropping 4.6% MoM. While the Venezuelan equity market is still set to top the growth charts in 2013, as it did in 2012, with an impressive 511.1% YoY increase as of November, this growth has been largely attributed to the rapid devaluation of the local currency and the high inflation rate of 54.3% YoY as of October, hence eroding real returns. The situation is similar in Argentina where inflation and artificial government barriers on foreign currency trading have led to a 136.4% YoY increase in the Merval Index as investors turn to the equity market to protect their savings.
GEM Highlights
Most G7 countries recorded high rates of Industrial Production year-on-year (YoY) growth in October 2013. Noteworthy among them were Germany, the United States and United Kingdom topping the list with 4.77%, 3.23% and 3.18% growth rates respectively. At the other end of the spectrum, Italy registered a decline of -1.08% YoY.
The high levels of inflation that have plagued Sudan for the past two years escalated to 29.4% YoY in September, a significant jump from an already high rate of 22.8% in August.
Real GDP Growth YoY has been slowing down in Thailand since it hit 19.4% in the last quarter of 2012; YoY growth for the third quarter of 2013 was just 2.6%.
Labour force activity has grown substantially this year in Malaysia. The Labour Force Participation Rate for September was 69.6%, up from 65% at the end of 2012.
Among the Baltic countries, Estonia is the only one that has managed to keep its Banks' Non-Performing Loans Rate low. As of September 2013, the Non-Performing Loans Ratio was just 2.2%, whereas Latvia and Lithuania registered much higher rates of 9.9% and 11.3% respectively.
Discuss this post and many other topics in our LinkedIn Group (you must be a LinkedIn member to participate). Request a Free Trial Subscription. Back to Blog