GEM Newsletter: Sustainable Development Through Labour Productivity?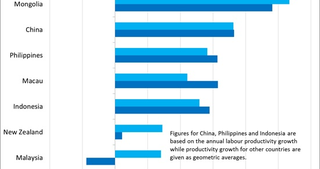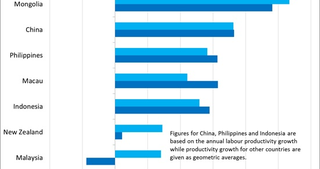 Global Economic Monitor/WorldTrend Database, April 28, 2014 -
Asian economies topped labour productivity growth rankings again last year. Mongolia topped the list with 9.7% year-on-year average labour productivity growth, followed by China (7.3%), the Philippines and Macau (both 6.3%), and Indonesia (5.8%). A notable exception to the positive outlook on the continent is Malaysia, where productivity declined by 1.7% last year. Mauritius stands out among non-Asian counterparts with its high 6.2% labour productivity growth. Overall, developing countries in Asia have their growth rates driven by labour productivity to a larger extent than developing countries in other regions where GDP growth tends to be more reliant on other non-labour factors. The transition from an input-driven growth model into a productivity-driven growth model is important in the context of sustainable growth – neo-classical theories often posit that productivity growth is the key determinant of long-term growth. This gives Asian economies a better chance of avoiding the middle-income trap.
GEM HIGHLIGHTS
Bulgaria's Consumer Price Index declined by 2.3% year-on-year (YoY) in March 2014. That was the eighth consecutive month of deflation; Bulgaria saw record deflation of 2.6% YoY in February 2014.
Mongolia was able to maintain its economic growth in double digits, with GDP growth of 11% in Q4 2013, in spite of a huge decline in its share of inward foreign direct investment (to 6.4% of GDP in Q4 2013 from 50% on average in 2011-2012). Government investments in infrastructure helped to replace foreign spending with the total investment-to-GDP ratio falling only marginally to 58.6% in 2013, from 61.4% in 2012.
Political uncertainties in Thailand saw Retail Sales falling by 7.8% YoY in January 2014, its eighth consecutive fall.
Nigeria's Reserves Requirement Ratio increased to 15% during March 2014 in a bid to tame excess liquidity in the financial system.
Myanmar saw record high export growth in December 2013 of 136.9%, generating record monthly export sales value of USD1.76 billion; Myanmar saw 26.3% growth in annual exports during 2013. The improvement was partially attributable to increased trade liberalisation.
The market capitalization of the Greek stock market increased to 35.56% of GDP in 2013 compared to 7.23% at the end of 2012, returning it to pre-crisis levels.
Discuss this post
and many other topics in our
LinkedIn Group
(you must be a LinkedIn member to participate). Request a
Free Trial Subscription
.
Back to Blog