GEM Newsletter: Record Current Account Surplus in Europe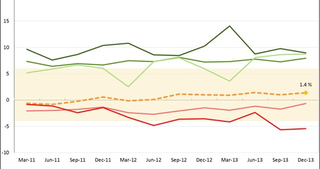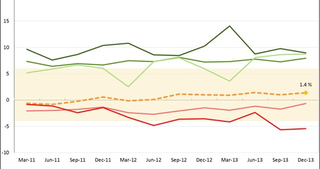 CEIC Global Economic Monitor: WorldTrend Database, May 26, 2014 - During the fourth quarter of 2013 the European Union registered its highest ever current account surplus in the Union's history. It was the seventh consecutive quarter of current account surplus and amounted to 1.4% of GDP. The persistent trend has been largely driven by the large surpluses of the core member states, such as Germany and the Netherlands. While strong current account surpluses reflect well on the competitiveness of particular economies, they could be a sign of misallocation of resources and weak domestic investment, hence affecting domestic economy growth. For the past three years the current account surpluses of Germany and the Netherlands have persistently exceeded the 6% of GDP limit set by the European Commission under the Macroeconomic Imbalance Procedure, and have thus attracted the Commission's attention. While the Dutch surplus is not seen as problematic, the EC has warned Germany of possible sanctions if it doesn't put its current account surplus back within the respective limits.
Efforts to boost domestic demand in the surplus economies as well as confronting low domestic investment and excessive saving would be intrinsically beneficial for these excessive surplus countries. It can also be expected to have a positive "spillover" effect on the deficit countries with current account deficits in the Union. France and the United Kingdom have been experiencing persistent current account deficits for more than a decade, due in part to their consistently negative trade balances. GEM Highlights
In April 2014 China's Industrial Production Growth slipped to 8.7% year-on-year (YoY), its lowest level since April 2009. This was accompanied by Retail Sales Growth of 11.9% YoY, the lowest in three years.
Hungary's YoY Consumer Price Index recorded the first YoY decrease in more than two decades (-0.1%) in April 2014.
Among African and Middle Eastern countries, Egypt shows the highest Government Debt in USD, dramatically increasing throughout the past years to reach its peak in Q42013 following a YoY increase of 8.99%.
YoY Imports Growth reached 112% in Myanmar as of February 2014 after 10 consecutive months of double-digit growth.
Armenia's External Debt reached its peak in 2013 to register 83% of Gross Domestic Product.
Among Latin American countries, Ecuador's Fiscal Balance showed the highest deficit of 4.3% of GDP in 2013, close to the recession level in 2009 (4.2% of GDP).
Discuss this post and many other topics in our LinkedIn Group (you must be a LinkedIn member to participate). Request a Free Trial Subscription. Back to Blog