GEM Newsletter: Positive Trade Balance Trends in Central and Eastern Europe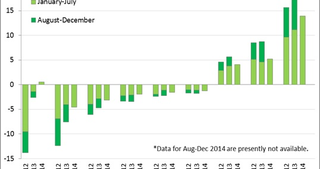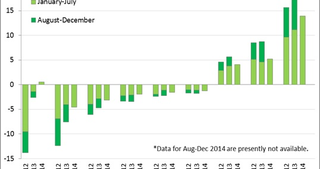 Global Economic Monitor - WORLDTREND DATABASE - September 25, 2014 Improvements in trade balances have been observed over the past few years across the CEE region. Poland, in particular, saw trade surpluses of USD211 million in July and USD133 million in June 2014, as it continued its steady improvement observed in 2012 and 2013. The January – July 2014 trade balances were higher than those in the respective periods during the two preceding years in 8 out of the 11 EU Eastern member countries, including Poland, Slovakia, Hungary, and the Czech Republic. This outlook is in stark contrast to much of the previous decade. Before the 2008 global financial crisis most of the CEE countries had deteriorating trade balances, a trend exacerbated by the appreciation of currencies in all 11 CEE EU members. The ensuing risk aversion following the onset of the crisis brought currency depreciation to the emerging economies. A development worth taking note of is that the current positive trade balance trends were registered while witnessing relative appreciations of CEE countries' currencies. Comparing exchange rates against the USD for August 2014 with January 2012, only the Czech Koruna weakened (by 5.3%). The Polish Zloty appreciated the most in this period, by 7.6%.
GEM Highlights
The UK House Price Index has been increasing at a faster pace since March 2013 with an 11% YoY growth rate recorded for August 2014. Ireland has seen similar increases in its index since June 2013, with YoY growth of 15% as of August 2014.
In August the world's top exporter, China, recorded USD208.46 billion worth of exports, USD4.43 billion lower than the previous month, albeit representing 12.3% YoY growth, compared to the same month of the previous year.
Belarus has continuously lowered its Policy Rate after it rapidly reached a 10-year high of 45% per annum in December 2011. The current policy rate amounts to 20% per annum.
The Equity Market Indices in all major North American economies – USA (NYSE index), Canada (S&P/TSX index) and Mexico (BMV: IPC index), hit their highs in August by reaching 11,046.3, 15,625.7 and 45,628.1 points respectively.
In the second quarter of 2014, Spain reported its highest economic growth (1.2% YoY) since the second quarter of 2008 (1.9% YoY) after six consecutive quarters of improvement.
Discuss this post and many other topics in our LinkedIn Group (you must be a LinkedIn member to participate). Request a Free Trial Subscription. Back to Blog