GEM Newsletter: Lower Labour Force Participation Globally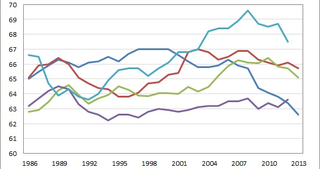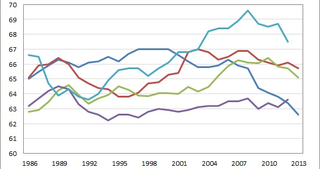 January 28, 2014 - Global Economic Monitor, WorldTrend Database:
Persistently high unemployment rates and low labour force participation rates present a recurring theme in many countries. Of note, New Zealand, which boasted one of the highest rates of labour force participation in the OECD (rising through the 1990s and early 2000s), has seen a falling participation rate since peaking in 2008. The labour force participation rates in Australia and Canada decreased to 65.1% and 65.7%, respectively, in December 2013. The United States had a 62.6% labour force participation rate in 2013, its lowest level since 1977. Declining labour force participation rates may have serious ramifications for an economy as well as users of economic statistics as low labour force participation may 'artificially' reduce unemployment rates without any real improvement in the labour market, hence limiting future potential economic growth which would otherwise require an increasing workforce. Well-designed labour market policies are therefore required to reverse this trend.
GEM HIGHLIGHTS
China tops the countries with the highest inbound Foreign Direct Investments (FDI), amounting to USD49.99 billion as of the third quarter of 2013. The steady inflow of capital is due to high investor confidence in China's growth prospects. China is closely followed by the United States (USD44.18 billion), while Hong Kong saw inbound FDI amounting to USD22.12 billion.
As of September 2013, China tops the list for electricity generation with production of 431 thousand gigawatt hours (GWh). Runners-up, the US, India, Russia and Japan generated 340 thousand GWh, 82 thousand GWh, 80 thousand GWh and 56 thousand GWh respectively during the same period.
Argentina and Indonesia are the countries with the strongest YoY Retail Sales Growth of 18.67% and 13.95% respectively during November 2013.
By the end of 2012, China recorded 47.76% of Investment as a % of GDP, the highest proportion among its Asian counterparts.
Discuss this post and many other topics in our LinkedIn Group (you must be a LinkedIn member to participate). Request a Free Trial Subscription. Back to Blog