GEM Newsletter: Liquidity Trap Becoming a Reality in Europe?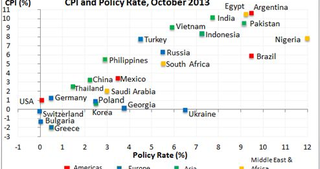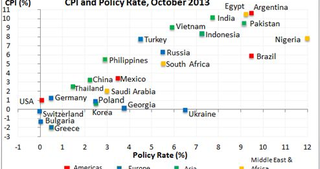 Global Economic Monitor - November 27, 2013:
The recent reduction of the European Central Bank's main policy interest rate (from 0.5% in October 2013 to 0.25% in November 2013) is indicative of its concerns about slumping inflation and the incipient threat of deflation (falling prices). Inflation rates in much of the developed world have dropped below the 2% mark and policymakers are trying their best to avoid a deflationary scenario. The countries in the greatest danger are those with already low interest rates, so anti-inflationary policies will need to be creative.
Average seasonally-adjusted consumer price inflation in the EU was down to 1.10% Y o Y in September. Inflation in Germany was above 1%, but still falling, and it is questionable for how long it will manage to prop up average EU and euro area inflation rates against outright deflation in Greece ( 1.99%) and other 'problem' states in Europe. Inflation has reached a 3-year low in most of Eastern Europe, with deflation in Bulgaria and near-zero inflation in Latvia and Lithuania. Seasonally-adjusted inflation in the United States was 1.18% Y o Y in September, well below the Federal Reserve's 2% target. With interest rates already as low as they are, liquidity trap is increasingly likely and lowering rates may not be a viable option for further reducing inflation.
GEM HIGHLIGHTS
The run-up to EU accession on July 1st did not help reverse the negative trend in house prices in Croatia; prices fell by 11.2% Y o Y during the first half of 2013.
Industrial Production Growth in China remained in double digits in October (10.3%) as producer prices continued to fall for the 20th month in a row.
Macau has one of the world's highest Savings Rate, at 75% in Q2 2013. Behind it is a group of oil-rich countries as well as Luxembourg and China.
Israel's Labour Productivity Growth fell to 0.1% Y o Y in the 3rd quarter of 2013 after registering 2.8% growth in the previous quarter – its first increase since 2011. Labour productivity in Germany also grew in the 2nd quarter of 2013, by 0.3% Y-o-Y after four consecutive quarters of decline.
The Indian subcontinent is witnessing some contrasting trends in Foreign Exchange Reserves. As of September 2013, Bangladesh's reserves rose by 49.9% Y o Y, while Pakistan's fell by 52.8%.
Belarus government debt as a % of GDP decreased to 24.4% in 2012 after spiking up to 39.2% in 2011, while Morocco's jumped to 81.8% from 53.7% over the same period.
Discuss this post
and many other topics in our
LinkedIn Group
(you must be a LinkedIn member to participate). Request a
Free Trial Subscription
.
Back to Blog