Foreign Investment Outflow from Russia Headed to Europe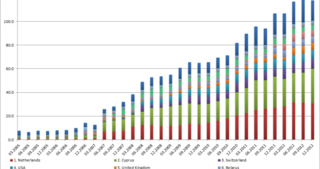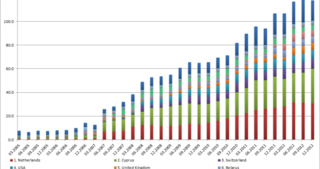 CEIC Russia Data Talk:
The Federal State Statistics Service of Russia recently released the latest quarterly statistics for outward investment from Russia for 2012, completing the picture for 2012. These statistics give hints to the destinations of Russian capital outflows, and the more strategic investment areas abroad for Russian investors. In light of the recent controversy surrounding the Cyprus banking sector bailout, the strategic allocation of these funds is being increasingly scrutinized in order to evaluate the extent of financial instrument related and country-specific risk of these allocations. Ironically, despite their geographical and historical proximity, countries from the Commonwealth of Independent States (CIS) are conspicuously scarce among Russia's top 10 investment destinations despite being Russia's major trade partners. Notable exceptions, however, include Belarus and Ukraine, the sixth and tenth recipients of Russian outward investment funds. The largest shares of investment instead went to the Netherlands, Cyprus and Switzerland, with total outbound investment amounting to USD 30.479 billion, USD 29.553 billion, and USD 8.019 billion respectively as of December 2012. This includes all types of investments, such as direct investments made by legal entities or individuals owning an entire enterprise, portfolio investments, which refer mostly to financial investments (equities, bonds and the like), and other investments, which do not belong to either of the above categories. Accordingly, investment can mean a wide range of transactions, for example the acquisition or partial ownership of enterprises, the purchase of securities, contributions to the capital of joint ventures, loans and bank deposits, and real estate acquisitions.
The presence of tax havens, such as Cyprus and the British Virgin Islands, in Russia's top 10 investment locations, demonstrates the attractiveness of both confidentiality in investments abroad and a low tax burden for invested capital. This has helped propel Switzerland, Luxembourg and Austria as desired financial and banking locations, as well as an attractive destination for real estate investments. At the same time, these locations are relatively independent of Russian influence, hence keeping private capital out of the reach of Russian prosecution in case of legal investigations or seizure of assets at home for any reason. Cyprus, for one, stands out as the second largest recipient country for Russian outward investment, rising from USD 23.074 billion in the first quarter of 2012 to USD 29.553 billion in the fourth quarter of 2012 (a growth rate of some 28%). Given the recent banking crisis in the country, this may soon change as large Russian investors grow increasingly disaffected by the outcome. Being major contributors of capital to Cyprus, a large-scale capital withdrawal could have far reaching ramifications for the Cypriot economy as a whole, potentially exacerbating the country's financial woes with spillover effects for the rest of the euro area. The choice of Europe for long-term investments by Russian residents, in spite of the ongoing recession in the region, signals that these risks have been outweighed by the overall return prospects, strong corporate governance, a stable currency, low inflation, low taxes and confidentiality of the financial and banking centers in Europe. The lack of Russian government interference, as well as the short distance to these countries from Russia only adds to the appeal of Europe as a major investment destination. Such a strategy will only continue to be justified on the condition that Europe effectively tackles its internal financial problems in the near future.
Discuss this post
and many other topics in our
LinkedIn Group
(you must be a LinkedIn member to participate). Request a
Free Trial Subscription
.
By A. Dembitski - CEIC Analyst
Back to Blog