Fiscal Deficit in the European Union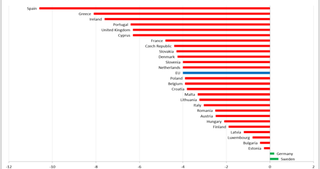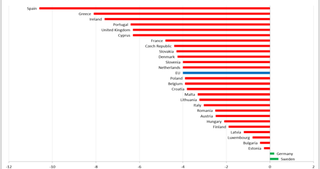 CEIC Global Economic Monitor:
The European Commission's ceiling on the acceptable fiscal deficit of EU member states dictates that in gross terms they should not exceed 3% of Gross Domestic Product (GDP) to safeguard the sustainability of public finances. However, the recent crisis has seen this rule largely ignored due to prevailing economic conditions.
As of the end of 2012, 18 Member States recorded deficits higher than 3% of GDP. Spain (-10.6%), Greece (-8.1%), Ireland (-7.6%), Portugal (-6.4%), Cyprus (-6.3%) and the United Kingdom (-6.3%) top the list as countries with the largest deficits. Germany and Sweden, however, reported surpluses of 0.2% and 0.4% respectively, while Latvia and Romania successfully brought their deficits down to -1.2% and -2.5% of GDP from -3.6% and -4.3% during 2011 respectively. The main challenge now is the ability of member states to take the appropriate measures to ensure that their government spending is brought under control while promoting economic growth.
Discuss this post
and many other topics in our
LinkedIn Group
(you must be a LinkedIn member to participate). Request a
Free Trial Subscription
.
Back to Blog