Federal Budget Execution in 2014 and Targets for 2015-2017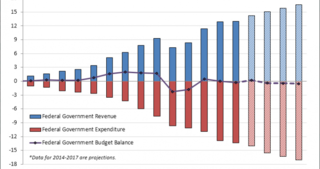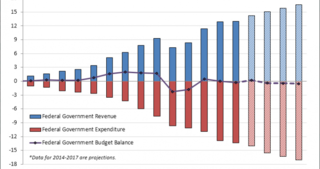 CEIC Russia Data Talk - October 8, 2014
The Russian government has submitted a draft federal budget proposal for 2015 and projections for 2016 and 2017 to the State Duma (parliament). This document is subject to revision, yet it gives an overview of expected revenues and expenditures based on estimates of the economic situation and prospective oil prices. According to the law on the federal budget, published in December 2013, a target for the federal budget deficit for 2014 was set at RUB 389.6 billion. However this amount is being revised on a monthly basis and as of September 1, 2014, the annual budget for 2014 is expected to be a surplus of RUB 196.8 billion, though it is subject to further change by the end of the year. The key element of Russia's budget planning is the average oil price, which is estimated at USD 100/barrel for 2015-2017. Since the largest share of government revenue comes from oil and gas receipts, the rouble's devaluation will play a significant role in meeting the budget targets for the current year, while posing risks for inflation down the road. This situation is exacerbated by the falling global oil prices since July 2014. The federal budget ran a surplus from 2000 until 2008. All successive budgets were planned with a deficit and only in 2011 the actual budget execution produced a surplus, of RUB 442.1 billion. The draft federal budget for 2015 similarly extends the trend of deficit projections towards 2017. Budget revenues and expenditures are expected to grow every year until 2017. The revenue plan for 2014 is set at RUB 14.2 trillion, and current revenues reached RUB 9.4 trillion as of August 2014. Budget expenditure planned for 2014 is set at RUB 14.0 trillion and current expenditure amounts to RUB 8.5 trillion, creating a budget surplus of RUB 905.5 billion as of August 2014.
The largest expenditure item in the budget involves social expenditures, and equate to a projected RUB 4.9 trillion in 2014, before increasing beyond RUB 5.4 trillion in 2015-2017. Pension provision (projected at RUB 2.3 trillion in 2014) comprised more than 50% of social expenditures in the last two years. Other large budget items in 2014 include national defence (RUB 2.5 trillion in 2014, projected to increase to RUB 3.5 trillion by 2017), national security and public order (RUB 2.1 trillion in 2014, down to RUB 2.0 trillion in 2017) and national economy (RUB 2.2 trillion in 2014, falling to RUB 2.0 trillion in 2017), comprised mainly of road infrastructure, transportation, agriculture and economic issues and research spending. No significant increase is planned for expenditures on national economy items in the budget for the next three years. The draft federal budget reveals the main goals of the government: maintaining social stability and increasing defence spending, while keeping a balanced economic outlook through spending on economic development. It will be a challenge to attain all of these goals at the same time. Maintaining high rates of growth is unlikely without boosting spending on the national economy items in the budget. The economic outlook for Russia will be determined by the global price of oil, inflation, the depreciation of the rouble and the Ukrainian crisis development in terms of further sanctions or their easing. This will also determine Russian access to foreign credit and federal budget financing from abroad.
By Alexander Dembitski - CEIC Analyst
Discuss this post
and many other topics in our
LinkedIn Group
(you must be a LinkedIn member to participate). Request a
Free Trial Subscription
.
Back to Blog