Falling Influence of the Manufacturing Industry on Mauritian GDP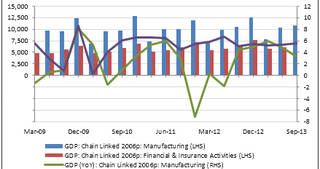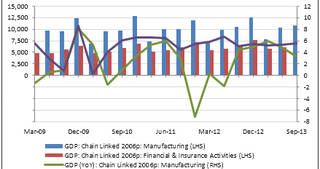 CEIC Macro Watch - January 30, 2014 -
The manufacturing industry remains an important cornerstone of the Mauritian economy. Since 2009 manufacturing has raked at an average of 9.77 billion Mauritian Rupees (MUR) every quarter, establishing itself as the single largest contributor to GDP. It is largely dominated by textile manufacturing, which as of 2013, takes up 37.26% of total value output. However, quarterly growth in manufacturing has remained modest in recent years, growing by an average of 2.35% year on year (y-o-y) since 2009.
Conversely, the financial sector, which has delivered a quarterly average of MUR 5.90 billion since 2009, is one of the nation's fastest-growing industries. The sector has grown by an average of 5.08% y-o-y on a quarterly basis since 2009. With the recent rise in popularity of the island as a destination for both Asian and African investors, the banking sector may perhaps eventually replace manufacturing as the nation's top source of income.
By Joshua Ong in Malaysia - CEIC Analyst
Discuss this post
and many other topics in our
LinkedIn Group
(you must be a LinkedIn member to participate). Request a
Free Trial Subscription
.
Back to Blog