Evaluating Credit Risk in Brazil's Financial System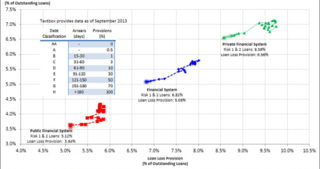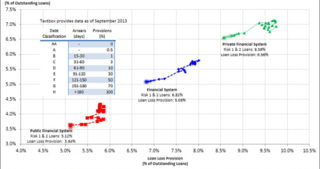 CEIC Brazil Data Talk - December 2, 2013:
The credit risk exposure of Brazil's financial system has declined as a percentage of overall outstanding loans. Total loans in arrears exceeding 60 days declined to 6.82% of outstanding loans during September 2013 from a high of 8.01% during February 2012. Loans arrears are among one of the Banco Central do Brasil's (BCB, Brazil's Central Bank) key indicators in determining loan quality. In addition to the standard measure of non-performing loans, the BCB introduced a system of credit risk classification (Resolution 2682) in 1999 which helps to monitor the financial system. The resolution classifies credit risks into three distinct categories Normal Risk, Risk 1 and Risk 2, representing days where the loans have run into arrears. These tiers subsequently correspond to a statutory required loan loss provision to be booked. As of 2000, these risk tiers have been further divided into nine separate levels, in ascending order of risk, AA, A, B, C (collectively normal risk), D, E, F, G (Risk 1) and H (Risk 2). Combined, Risk 1 and Risk 2 loans (both risk levels account for all loans in arrears exceeding 60 days) have been hovering around 7.8% from early 2012 to late 2012; the rise in debt risk levels follow sharp loan growth during late 2010 to mid-2011 where growth in loans outstanding soared to just above 20%. While the growth of these loans was, in part, justified by Brazil's burgeoning middle class, the alarming increase in outstanding loans triggered fears of possible overheating in the economy and heightened banking sector risk. This, along with rising inflation, has prompted the BCB to tighten monetary policy and execute several macro-prudential measures, including raising reserve requirement ratio on new time deposits to 12.0% from 8.0% in late 2010.
While Brazil's loan growth remains relatively high (approximately 15.74% year-on-year as of September 2013), BCB's macro-prudential policies and improved oversight of credit risks have been accompanied by a corresponding decline in required loan loss provisions. The Brazilian financial system as a whole registered a loan loss provision of BRL132.01 billion or 5.08% of overall outstanding loans as of September 2013 compared to 5.74% during September 2012 as both the public and private financial system saw improved management of their respective arrears. Big improvements were observed from the arrears management of rural credit – Risk 1 & 2 loans arising from rural credit declined to just 5.79% as of September 2013 from 7.54% during September 2012, although household credit growth continues to hover in a double-digit range; household loans have accounted for around 30-36% of total outstanding loans in the private sector since mid-2005. The BCB's regulation on grading credit risk and loan loss provisioning provides analysts with some idea of banking sector risk based on outstanding loan arrears. The regulation further advises on additional variables to be taken into account when assessing credit risks. In particular, the ratings are recommended to be based on both an analysis of the borrower (such as creditworthiness, capacity to generate cash, quality of management) and the particular credit transaction (such as the quality of collateral and size of debt).
By Bruno Vasconcelos
- CEIC Analyst
Discuss this post
and many other topics in our
LinkedIn Group
(you must be a LinkedIn member to participate). Request a
Free Trial Subscription
.
Back to Blog