The Effect of Sanctions on the Russian Credit System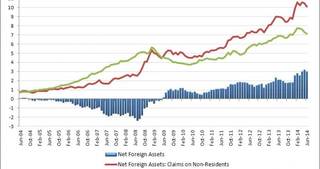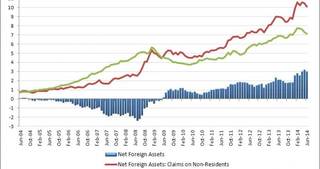 CEIC Russia Data Talk - August 13, 2014
The escalation of the military conflict in eastern Ukraine brings more casualties every day. The confrontation has become one of the major conflicts in the region after the break-up of the Soviet Union. The introduction of new, tighter sanctions against Russia aims to restrain Russian influence in the conflict. Initially sanctions imposed by the United States, the European Union and all other G7 nations, among other countries, affected only selected upper-level government officials, some business figures and several affiliated banks. New sanctions, however, such as the ban on arms trading and joint military projects with Russia, the ban on selected banking transactions with major state owned Russian banks causing credit squeeze, and limits on investment and technology sharing, especially in the oil and gas industry, aim to put constraint on the wider Russian economy. In the past decade Russian credit institutions have increased their penetration in global markets just as non-residents have increased their financial transactions with Russian credit institutions. After reaching a record value of RUB 3.18 trillion in May 2014, net foreign assets of Russian credit institutions started to decline to RUB 2.98 trillion by the end of June 2014 according to the Central Bank of Russia. Net foreign assets are the balance between claims on non-residents (RUB 10.09 trillion in June 2014) and liabilities to non-residents (RUB 7.10 trillion in June 2014), where non-residents represent foreign individuals, companies and banks. Claims on non-residents consist of foreign deposits and loans, securities excluding shares, foreign currency and others owned by Russian residents. Liabilities to non-residents consist of Russian deposits and loans, securities excluding shares and others owned by non-residents. Before the global financial crisis of 2008/09 Russian credit institutions attracted more credit from abroad than they provided in loans to non-residents, which resulted in a negative net foreign asset balance. Foreign credit spurred dynamic development of the Russian economy prior to the crisis. Since June 2009 the trend has reversed as Russian credit institutions have started to provide more credit to non-residents than they have borrowed from abroad, resulting in the gradual increase of net foreign assets. Such a trend reveals the strengthening Russian credit system taking the role of creditor due to the free access to foreign capital markets. The inflow of foreign credit started to diminish again on a monthly basis from March 2014 after Crimea's secession from Ukraine and the unfolding of the military conflict in eastern Ukraine. The introduction of initial sanctions caused liabilities to non-residents to decline from RUB 7.76 trillion in February 2014 to RUB 7.10 trillion by the end of June 2014. Claims on non-residents also declined for the two consecutive months from RUB 10.58 trillion in April 2014 to RUB 10.09 trillion in June 2014. This trend reveals the effect of the initial sanctions, which should increase in the following months when more sanction are put in place.
Due to restrictions on financial transactions and limits on credits imposed by the new sanctions, capital inflows to Russia from abroad are expected to decrease significantly in the coming months. At the same time sanctions might limit Russian capital penetration into the European market. Given that the conflict in Ukraine has no resolution at the moment, we may well see declining trends for claims on non-residents and for liabilities to non-residents. The greater effects will most likely occur in the long run if more sanctions and limits on capital flows are imposed on a greater number of Russian credit institutions by more countries. Russia responded with counter measures against the countries who acted against Russia with the ban on imports of selected food products which might significantly hurt some of the European agricultural producers due to the scale of trade between Russia and these countries. So far Europe has been the main trading partner of Russia. The sanctions might change the balance of trade, investment and financial flows. The civil war in Ukraine might have far-reaching implications for the global security, balance of trade and international relations between countries. European countries might freeze all projects in Russia and transactions with Russian banks, companies and individuals who might withdraw their financial assets from Europe in return. The situation will continue to deteriorate unless all involved parties act to stop the conflict.
By Alexander Dembitski, CEIC Analyst
Discuss this post
and many other topics in our
LinkedIn Group
(you must be a LinkedIn member to participate). Request a
Free Trial Subscription
.
Back to Blog