Economic Reform in China is Inevitable - Investment led growth can't continue forever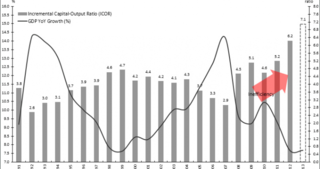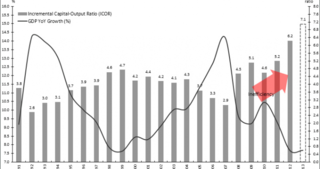 CEIC China Data Talk: February 20, 2014 -
The composition of China's 2013 GDP figure tells us that the Chinese economy still operates in the same old way. Although this is somewhat anticipated, the degree of stickiness to this old model is beyond expectations. The economic structure of China has come to a point that the case for reform is compelling!
The contribution of investment to economic growth in 2013 has climbed to the highest level in recent years, thus investment is still the prescription to stimulate the economy. Below we will use the Incremental Capital-Output Ratio (ICOR) to illustrate economic growth during this situation: • In the 90's, capital investment accelerates but economic growth declines, causing the continuous rises of ICOR. Efficiency drops. • In 1998, the structural reform of government institutions improves efficiency. • From 2001-2002, a new economic cycle starts and the economy performs well. Although capital investment is large, speeding up of economic growth leads to a drop in ICOR. Efficiency increases. • In 2008, the Government introduces the 4-trillion stimulus package to fend off the global financial crisis. This leads to a huge capital investment, resulting in the continuous decline of efficiency. If the 4-trillion stimulus package had never been rolled out, perhaps the Chinese economy could have continued its economic cycle from 2001-2002, and built up its own self-adjusting recovery mechanism instead of the investment-led growth model. Nowadays, the changing of the growth drivers in Chinese economy becomes inevitable.
Contributed by the China Database Team
Discuss this post
and many other topics in our
LinkedIn Group
(you must be a LinkedIn member to participate). Request a
Free Trial Subscription
.
Back to Blog