Dubai's Tourism Booming Despite Regional Unrest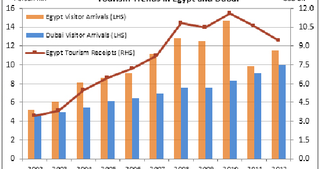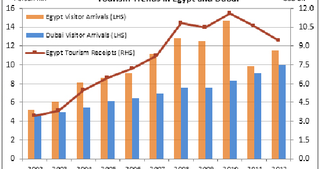 CEIC Macro Watch:
The tourism sector in Middle East and North Africa has unsurprisingly deteriorated due to the recent political and social turmoil in the region. However, Dubai, in the United Arab Emirates (UAE), looks relatively well-shielded from the turmoil, compared to Egypt, say. The number of visitors to Egypt has decreased from a peak of 14.7 million in 2010 to 11.5 million in 2012. Egypt's tourism receipts have thus fallen to USD 9.4 billion in 2012 from USD 11.6 billion in 2010. In contrast, Dubai's tourism is flourishing. With 10 million visitors in 2012, the Emirate attracted 20% higher compared to 8.3 million number of guests in 2010.
Dubai not only benefits from being perceived as safer amid the regional instability, but also from effective marketing campaigns as well as from its more developed infrastructure. Dubai's tourism receipts play a big part in protecting the UAE from any possible drop in foreign exchange reserves that might result from the decline in oil prices (a pivotal industry in other Emirates), that is expected in the medium term.
Discuss this post
and many other topics in our
LinkedIn Group
(you must be a LinkedIn member to participate). Request a
Free Trial Subscription
.
By Zahraa Hesham - CEIC Analyst
Back to Blog