Declining Fixed Capital Investment – Another Sign of a Slowing Economy in 2013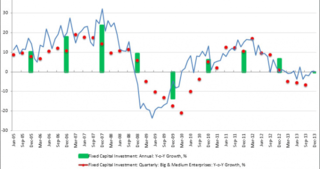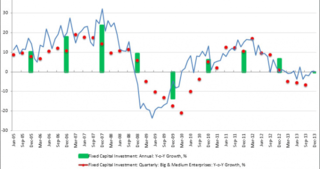 February 12, 2014 - CEIC Russia Data Talk:
Russia's real fixed capital investment exhibited declining momentum on a monthly basis during 2013, resulting in a 0.3% annual decline for the year as a whole. Monthly growth trend started declining from March 2012 (16.6% annual growth) until October 2013 (1.9% annual decline). The largest year-on-year (yoy) decline, amounting to 3.9%, occurred in August 2013. November and December 2013 posted positive, but weak growth of 0.2% and 0.3% yoy respectively. 2013 was the first year to post an annual decline in fixed capital investment since the global financial crisis hit in 2009 when it contracted by 13.5% compared to the previous year. Although not as dramatic as in 2009, these current results represent a slowdown in the Russian economy along with other macroeconomic fundamentals.
According to the most recent year-to-date results from the Federal State Statistics Service for the third quarter of 2013, the Tumen Region rich in hydrocarbon deposits and a transition point between East and West Russia attracted the biggest share of the total RUB 8.1 trillion in fixed capital investment - RUB 1.1 trillion or 12.9%. This consisted of mostly oil and gas related investments, which constitute key Russian industries. Moscow attracted the second largest share - 7.9% of fixed capital investments, totalling RUB 641.5 billion. The city remains a magnet for investment due to the country's highly centralized structure of governance and concentration of business services, including the financial services sector, within its capital. The Krasnodar Territory is similar to Moscow in terms of investment with RUB 598.9 billion during the third quarter of 2013 (or 7.4% of total). This southern region is hosting the Winter Olympic Games in Sochi scheduled to take place from February 7th-23rd of 2014. Most of the investments are related to this event in various respects. The city and the whole region have seen massive structural changes in recent years and a transformation of the entire transportation system and road infrastructure, along with renovation and development of tourist accommodation and sports facilities. According to local data on big and medium enterprises, which comprise on average 95% of all enterprises in Russia, most industries experienced a decline in fixed capital investment in 2013 compared to 2012. Year-to-date results for fixed capital investment growth in the third quarter of 2013 showed declines for key Russian industries: investment in the mining and quarrying industry totalled RUB 1.2 trillion, a 6.9% yoy decline and constituting 21.2% of total investment, investment in transport and communications also totalled just over RUB 1.2 trillion, declining by 18.5% yoy and constituting 21.5% of total investment, investment in electricity, gas and water production was RUB 626.1 billion, down by 9.4% yoy and 11% of total investment. However, some industries managed to grow: manufacturing saw RUB 1.1 trillion (3% yoy growth; 18.5% of total investment), agriculture, hunting and forestry amounted to RUB 195.9 billion (3.5% yoy growth; 3.4% of total investment). Positive results for selected industries balanced the total result for the third quarter 2013 and eventually mitigated the overall declining trend for 2013.
By Alexander Dembitski - CEIC Analyst
Discuss this post
and many other topics in our
LinkedIn Group
(you must be a LinkedIn member to participate). Request a
Free Trial Subscription
.
Back to Blog