Decline of Traditional Pig Farming in Poland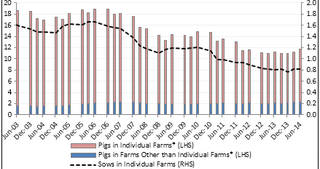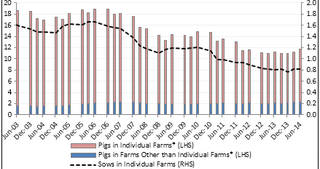 CEIC Macro Watch Global - October 30, 2014
Traditionally Poland has been among the countries in Europe with the largest pig populations. The size of the national pig herd in Poland, the majority of which is in small, family-run farms, has declined continuously for the past decade. Since the beginning of 2003, the total pig livestock has decreased from 18.6 million to 11.7 million pigs by mid-2014.
Among the often-cited reasons for the weakening of the sector is the low profitability of small farms. The advent of large, vertically-integrated farms with hired management in Europe has rendered many individually-owned and managed farms economically unviable. The erosion of the traditional small Polish pig farms is evident in the staggering drop in the total number of sows – an important metric which provides an indication of the production capacity of the herd. As of the second quarter of 2014, the total number of sows in these farms stood at 818 thousand. This is a far cry from the thriving pig farming landscape in Poland a decade earlier (in the beginning of 2003) when the sows in individual farms totalled 1.7 million.
By Stoyan Kiryazov in Bulgaria - CEIC Analyst
Discuss this post
and many other topics in our
LinkedIn Group
(you must be a LinkedIn member to participate). Request a
Free Trial Subscription
.
Back to Blog