Croatia's Economic Struggle In The Context Of Its EU Accession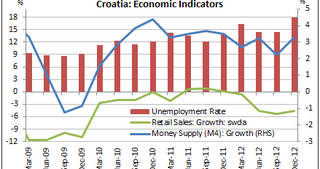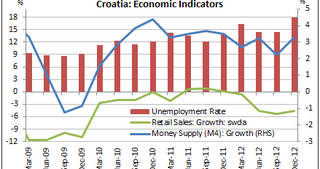 CEIC Macro Watch:
As Croatia's accession to the European Union looms on 1 July, 2013, its economy is gripped in recession with household expenditure declining and unemployment rising. Money supply growth has accelerated since the third quarter of 2012, helping to reduce the short-term money market interest rate to 1.06% pa by the end of March 2013 (a 2.69 percentage point reduction compared to the same month last year). Despite the Central Bank's expansionary monetary policy aimed at stimulating corporate sector activity and counteracting unemployment, year-on-year retail sales have been declining since February 2012. The recent downgrading of Croatia's credit rating could also be a bad sign for borrowing costs and consequently for the overall economy in the near future.
Nominal GDP contracted by 5.7% from 2008 to 2010. Despite growth of 1.97% in 2011, estimated in current prices, the insignificant 0.02% GDP gain in 2012, compared to the 2.03% EU average, is indicative of the pessimistic outlook for Croatia. In terms of unemployment, with a rate of 18% as of the end of 2012, Croatia is only surpassed by Spain and Greece, which are hardly economic role models. Considering all these issues, the government would have to implement more aggressive reforms, as the long-awaited EU membership alone would not be a sufficient remedy for the country's economic woes.
Discuss this post
and many other topics in our
LinkedIn Group
(you must be a LinkedIn member to participate). Request a
Free Trial Subscription
.
By Iveta Jordanova - CEIC Analyst
Back to Blog