Chinese Visits to Hong Kong Increase Due to Individual Visitor Scheme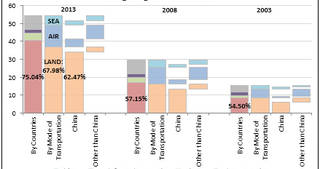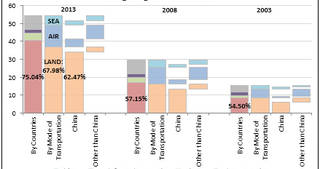 CEIC Macro Watch #31 - April 30, 2014 -
China continues to account for the majority of Hong Kong's inbound tourists, representing 75.04% of total visitors in 2013, an increase from 54.50% in 2003. While Hong Kong remains a popular travel destination among international tourists, arrivals from regions other than China have had fairly small or no growth. By contrast, the numbers of Chinese visitors grew robustly to 40.75 million in 2013 from 8.47 million in 2003. The large influx of Chinese tourists can be attributed to the introduction of Hong Kong's Individual Visitor Scheme in 2003 and its subsequent expansion, which relaxes the previously tighter entry requirements.
The expanded access of Chinese into Hong Kong has led to an evolution of the preferred mode of travel. Given their general geographical proximity, an increasing proportion of inbound tourists arrive over land (accounting for 67.98% as of 2013 from 36.77% and 43.25% during 2001 and 2002 respectively, prior to the introduction of the scheme). This coincides with a lower proportion of visitor arrivals by air; non-Chinese international visitors by contrast are usually obliged to employ air travel (approximately 57.36%) rather than other modes of transport.
By Woon Khai Jhek
- CEIC Analyst
Discuss this post
and many other topics in our
LinkedIn Group
(you must be a LinkedIn member to participate). Request a
Free Trial Subscription
.
Back to Blog