China's 2017 Trade Surges to Reverse the Declining Trend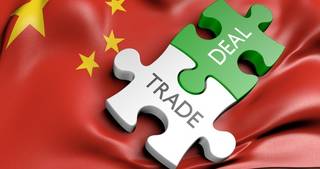 Throughout 2017, China saw a positive trend in terms of their foreign trade, but this prosperity didn't last throughout the entire year. What are the expectations for the economic superpower for 2018?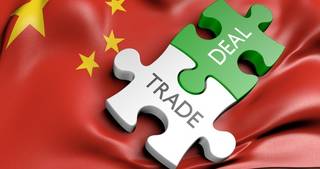 By Suyang Zhou - Research Analyst
China's foreign trade rallied significantly since the beginning of 2017 thanks to recovered demand from home and abroad. In Dec 2017, however, import and export saw marginal decline, of which import decreased prominently to 4.5% y-o-y due to weaker domestic demand in commodities and industrial output control in order to curb winter pollution. Beyond such single month volatility, China's foreign trade reversed its declining trend in the past two years. In USD terms, import and export grew 15.9% and 7.9% YTD y-o-y, respectively. In RMB terms, the figures were 18.7% and 10.8% YTD y-o-y, respectively. Meanwhile, China's terms-of-trade index saw marginal upbeat.
Let's first look into export by region. Chinese export to HKSAR, Japan, Australia, and Chinese Taiwan saw accelerated growth in Dec 2017. By product, export of agricultural products accelerated in December, while mechanical & electrical products, garment & clothing accessory, and furniture edged down. 

On the other hand, import from US and Brazil saw faster growth in Dec 2017, while import from EU, ASEAN, Australia, Chinese Taiwan, Japan and South Korea slowed compared to November readings. By product, import of crude oil, mechanical & electrical products, agricultural products and integrated circuits all decelerated to some extent.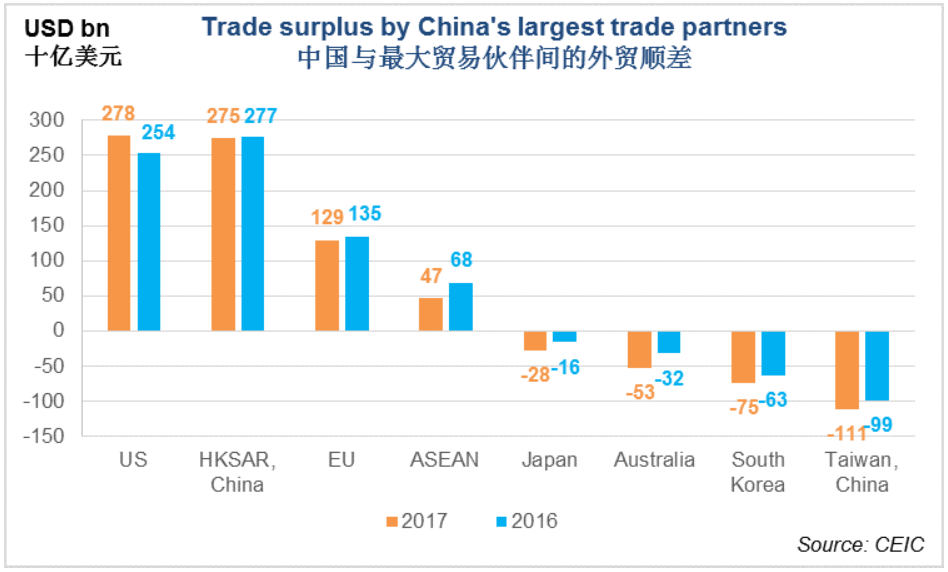 Looking ahead, China's foreign trade outlook depends on foreign demand, political environment in international community and global competition in manufacturing. Currently, many countries are emphasizing on domestic industries and making efforts to introduce more foreign investment into manufacturing sectors. But in the case of China, shrinking demographic dividend and soaring property market have led to increased cost of production factors, which would undermine the edge of Chinese manufacturing sector and ultimately crowd out export orders and foreign investment.

Although 2017 is a better year for China's foreign trade, we still have to take a cautious stance. All four leading indices of China's foreign trade edged down in Dec 2017, reflecting export pressure in 1Q2018. Given better economic outlook from home and abroad, China's foreign trade is expected to keep growing in 2018. But the high base effect last year could make double-digit growth more difficult this year.
Subscribed users can find our full report here.
This report was undertaken using the China Premium Database. Try CEIC Data for a 10 day free trial to gain access to over 4 million data series.
​

​
Country