China Home Price Growth Cools for Fourth Straight Month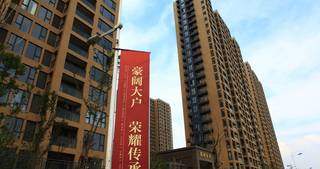 China property prices appear to be stabilizing after an uncertain few months, with prices appearing to cool for the fourth consecutive month. Research Analyst Kamen Parushev investigates whether this is a permanent change in trend direction or just a temporary bump in the market.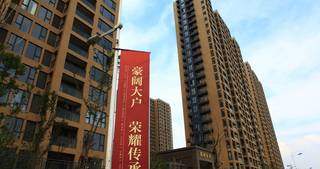 By Kamen Parushev - Research Analyst
Home price growth in China slowed for the fourth consecutive month due to reduced demand in the biggest cities. Property price index for new dwellings declined 0.1% and 0.5% in Shanghai and Shenzhen, and remained flat in Beijing on a monthly basis, while price growth decelerated further on an annual basis. Compared with a year ago, home prices in China's biggest cities Shenzhen, Shanghai and Beijing still rose 18.4%, 28.3% and 27%, respectively. House price growth reached its peak in September last year when year-on-year prices accelerated to 39.5% in Shanghai, 34.5% in Shenzhen and 30.4% in Beijing.
Cooling house prices suggest regulators are making progress in their attempt to defuse bubbles in the world's second-largest economy. In October central government introduced new restrictions on property-related lending.
"We are aware that the property market faces many contradictions and problems in 2017, and there are increasing uncertainties, but I believe the positive aspects outweigh the negative ones and we have the ability and methods to stabilise the market," said China's housing minister Chen Zhenggao (1).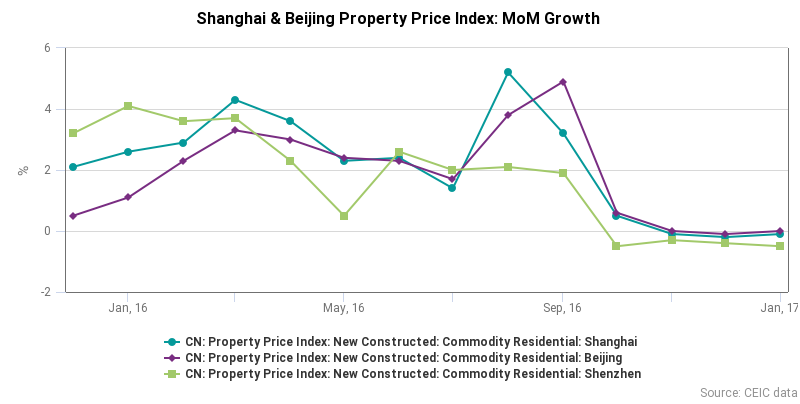 For more information on Chinese economic data, check out CDMNext. For those who aren't customer, explore ways to gain access to CEIC Data.
Country
Industry