CEIC News@lert: Tourism and Aviation Set to Boost Africa's Economic Growth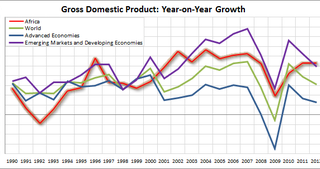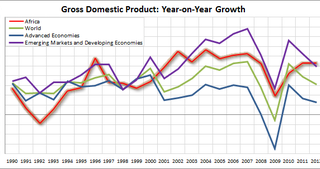 HIGHLIGHTS
Africa's historical failure to attract investment and its poor economic growth have been attributed to prolonged political instability in the region. Nevertheless, the abundance of natural resources, relaxed government control, reformed local legislation and liberalisation of some African economies have put the region in good stead in the global economic landscape. In recent years the focus on Africa has been renewed, as investors and tourists alike are starting to recognise the potential of the second most populated continent.
African countries have shown great resilience to the challenges of the global financial crisis, with an average real gross domestic product growth rate of 5.2% year-on-year (y-o-y) over the past decade. In 2012 Africa was the fastest developing economic region in the world (growing at 5.3%), taking the lead over growth in emerging markets and developing economies by 0.4 percentage points.
Scaling Up Tourism
The tourism industry – one of Africa's main growth pillars, has also shown an impressive pace of development in recent years. Tourism in Sub-Saharan Africa has been experiencing strong growth, with 33.5 million international arrivals in 2011 – representing a 150% increase from 1995, or a 5.9% compound annualised growth rate. Tourism has rapidly been expanding, not only in smaller markets like Mozambique, but also in well-established destinations like Egypt and South Africa.
In 2012 South Africa saw 13.8 million international visitor arrivals, marking the 11th consecutive annual rise. From 2005 to 2012 the compound annualised growth of international visitors was 9.1%. During that period, visitor arrivals from Asia increased by 150% (a compound annualised growth rate of 14.0%). More notably, the country is seeing an increasing proportion of visitor arrivals from China as a percentage of Asian visitors; China accounts for 31.2% of total visitors from Asia, up from 21.2% during 2005. Total arrivals in Egypt followed a similar trend up until 2011 when the revolution took place. In 2012, the number of foreign visitors in the country surged by 17%, indicating a potential recovery from the consequences of the social unrest. However, the recovery was interrupted in mid-2013 when the demonstrations started over. In July 2013 the number of foreign arrivals contracted by 25% y-o-y.
Air Transport Development
The aviation industry plays a vital role in achieving sustainable development in tourism, and consequently in the economy. Despite a temporary decline following the Arab Spring, the traditional tourist hotspots in Africa have enjoyed healthy growth in total air passengers during the past decade.
For the period 2005-2012, passengers to and from Morocco increased almost twofold. Passenger movements peaked at 7.5 million in 2011, but were still high in 2012. Algeria's aviation industry was adversely affected by the fallout from the regional political unrest, and air traffic to and from the country declined by 23% in 2010. However, it has been growing steadily since then. As of 2012, passengers carried in Algeria amounted to over four million, just 300 thousand shy of the peak levels in 2009. Likewise, Tunisia has remained a popular destination. Air passenger movements there have recorded positive growth rates each year since 2005. A marked increase in air passengers was also observed in Tanzania; while in 2005 air passenger movements totalled barely more than 250 thousand, in 2012 they were over 900 thousand. The development of the still largely unexploited tourism industry in Africa has boosted foreign travel and transport demands on the continent, presenting a huge potential for foreign investors considering the establishment of operations in the region, especially in the aviation industry.
Discuss this post
and many other topics in our
LinkedIn Group
(you must be a LinkedIn member to participate). Request a
Free Trial Subscription
.
Back to Blog