CEIC News@lert: Non-Performing Loans in Greece Surge to a Record High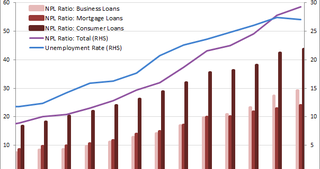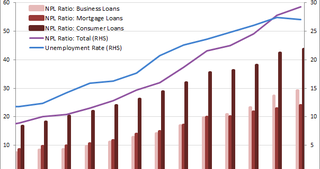 Greek commercial banks' non-performing loans (NPL) data are sourced from the Central Bank of Greece by CEIC on a quarterly basis. The NPL figures have been climbing steadily for the past 20 consecutive quarters since June 2008, reaching peak values by the second quarter of 2013. In June 2013, the ratio of loans overdue for more than 90 days to total loans increased by 1.5 percentage points (pp) compared to the previous quarter or by 7.7pp compared to the same period last year. As a result, total delayed loans amounted to 29.3% of the total credits lent in the indebted country – the highest level in its reported history. The increase is mainly due to the portion of consumer loans outstanding, which has displayed the most rapid growth rate over the past three crisis years, hitting 43.8% by mid-2013. Overdue business loans as a percentage of total business loans increased by 9.4pp over the span of just one year since last June, and have now surpassed the non-performing ratio of mortgage loans.
Higher NPL ratios are directly correlated with the increase in the unemployment rate as the intensification of the Greek labour market crisis impacts borrowers' ability to service their loans. Regardless of the modest decline in the second quarter of 2013 – from 27.4% in March to 27.1% in June, the average unemployment rate in Greece has recorded a 3.5pp increase since last June.
Discuss this post
and many other topics in our
LinkedIn Group
(you must be a LinkedIn member to participate). Request a
Free Trial Subscription
.
Back to Blog