CEIC News@lert: Hong Kong Inbound Tourism Faces Bumpy Road Ahead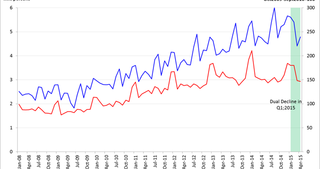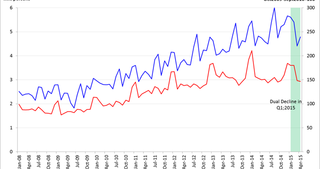 CEIC News@lert - July 3, 2015
Inbound tourism has been among the key factors sustaining Hong Kong's GDP growth in recent years amid the subdued merchandise trade performance after the financial crisis in 2008-09. Strong growth in both visitor arrivals and inbound tourism receipts not only foster the development of tourism-related industries, but also create employment for a significant proportion of the labour force. Tourism is considered to be one of the "four pillar-industries" (along with financial services, trading and logistics, and producer and professional services) in Hong Kong. The tourism industry relies significantly on Chinese visitors (from the mainland, excluding Taiwan) which have comprised over 70% of total visitor arrivals since 2012 and more than half of total visitor arrivals since 2003. Given the industry's reliance on Chinese mainland visitors, their visiting and consumption patterns can have deep ramifications (both positive and negative) for not just Hong Kong's tourism sector but also its domestic retail sectors.
HIGH LINKAGES BETWEEN TOURISM AND RETAIL SALES
The importance of the tourism sector to the retail sales patterns in Hong Kong was demonstrated by the dual decline of both visitor arrivals and retail sales value during the first quarter of 2015.
The recent decline raises concern about the industry's ramifications for Hong Kong's wider economy, especially as the travel habits and consumption patterns of these mainland visitors are starting to evolve.
VISITORS FROM MAINLAND CHINA AND THE INDIVIDUAL VISITOR SCHEME
Hong Kong has seen a vibrant increase in visitor arrivals since 2004 with 40.4% growth during 2004 and a compound annual growth rate of 10.8% from 2004-2014. The growth in visitor arrivals defied the negative impact of the Severe Acute Respiratory Syndrome (SARS) scare in Hong Kong during early-to-mid 2003. Mainland Chinese visitor numbers increased at a compound annualized rate of 14.5% during 2004-2014, representing the bulk of Hong Kong's tourism boom. This was further reflected by the proportions of visitor arrivals during 2004 and 2014 which saw a staggering increase of Mainland Chinese visitors to total visitors (from 56% to 78%).
The phenomenal growth of mainland Chinese visitors has been partly attributed to the introduction of the Individual Visitor Scheme (IVS). First launched in 2003 under the "Mainland and Hong Kong Closer Economic Partnership Arrangement", the scheme allows visitors from designated provincial cities to travel to Hong Kong on an individual basis. Prior to its launch, mainland visitors could only travel to Hong Kong on business visas or on group tours.
The introduction of the IVS caused a decade-long upward trend in the total arrival of visitors from the mainland of China (although there are other factors to consider, including the growing middle class in China, with rising incomes spurring more overseas travel). The rapid growth in visitors greatly benefited various domestic sectors in Hong Kong, notably retail services, including food and beverages, and hotels and restaurants etc. However, the large influx of mainland visitors also had some negative effects on the daily lives of local residents, increasing traffic for instance and generally making Hong Kong, which is a busy, tight-knit and heavily populated city, even more congested. These issues were aggravated by the fact that a portion of mainland visitors arriving under IVS conducted parallel trading by buying tax free daily grocery items in Hong Kong and re-selling them across the border. Local residents complained that the parallel trading caused stocks of some of their daily necessities, such as infant milk formula and diapers (nappies) to run out. The discontent among some local residents caused a series of protests against mainland visitors, doing little for inter-communal harmony. In view of the intensifying tensions between local residents and mainland visitors, from April 2015 the mainland authorities imposed a maximum frequency of travel on new IVS applicants from Shenzhen bordering Hong Kong, from unlimited previously to just "one-visit-per-week". While it may take time to review the impact of this new arrangement, the preliminary figures suggest a significant decline in visitors arriving under IVS during the first quarter of 2015. This decline has similar ramifications for inbound tourist receipts.
CHANGING TRAVEL HABITS AND EXPENDITURE PATTERNS AMONG MAINLAND VISITORS
In a survey conducted by the Hong Kong tourism board since the first quarter of 2006, more than half of mainland visitors have spent more than one day in Hong Kong. However, this proportion has gradually shifted in favour of more same day visitors (i.e. more mainland visitors now travel in and out of Hong Kong within a day).
This change in travel habits combined with the recent drop in total arrivals from mainland China has raised concern that Hong Kong's inbound tourism boom may have peaked. Indeed, mainland visitors' per capita expenditure declined in 2014 in comparison to solid growth in previous years. These concerns are somewhat justified in light of the differing spending patterns between these two distinct types of mainland Chinese tourists.
Overnight visitors tend to spend significantly more compared to same-day visitors. These differences extend beyond accommodation (as naturally overnight visitors significantly outspend same-day visitors on hotel bills) to encompass shopping habits and other expenditure. A closer look at the different spending patterns also reveals several interesting trends concerning Hong Kong's mainland visitors' expenditure patterns across a broad time horizon. Firstly, per capita spending for both overnight and same day visitors declined in 2014. Compared to previous years, both same day and overnight mainland visitors reduced their expenditure in Hong Kong in 2014. Among these two groups, the drop in expenditure for overnight visitors was more apparent. Taking a closer look at each expenditure items, almost all of them experienced a decrease in per capita spending. This implies a cross-sector impact on the Hong Kong economy. Secondly, regardless of the visitor types, shopping is the main activity for mainland visitors in Hong Kong. From 2010 to 2014, overnight visitors spent 70% of their total expenditure on shopping, while same day visitors spent over 90% of their total expenditure. The visitors' confidence in the quality of products in Hong Kong, and their willingness to spend on luxuries and "big-ticket" items, have been important factors behind the sustained growth of retail sectors in Hong Kong in recent years. Indeed, visitors' spending contributes around 40% of total retail sales in Hong Kong. The recent fall in mainland visitor arrivals and the associated drop in per capita expenditure is an important factor explaining the decline in Hong Kong retail sales on a year on year basis in recent months. Finally, notwithstanding shopping activities as the predominant spending component of mainland tourists, overnight visitors' expenditures tend to be more diversified. While parallel trading may partially explain why same day visitors spend most of their expenditure on shopping, an important implication is that the overnight visitors, whose per capita expenditures are higher and more diverse, have reduced the average number of days spent in Hong Kong. Attracting these overnight visitors to travel to Hong Kong more frequently with a longer duration will be the key to bring the growth of inbound tourism and other related industries back on track.
FACTORS AFFECTING HONG KONG'S TOURISM IN FUTURE
While the future of Hong Kong's tourism sector remains fluid, the key factors that may continue to affect the industry's growth areas are multifold. For one, the reduction of import tariffs imposed in Mainland China on a broad range of consumer products (such as cosmetics and clothing) by an average of 50% with effect from June 2015 is expected to close the retail price gap between Hong Kong and the mainland. Consumers across the border may then switch to their local markets, saving the transport costs to Hong Kong. This will negatively affect Hong Kong's mainland visitor' arrivals and its retail markets. Furthermore, the recent appreciation of the Hong Kong dollar (pegged to US dollar) against other currencies is expected to make tourism in Hong Kong dearer. Domestically, Hong Kong faces stiff competition from other Mainland Chinese cities, particularly Shanghai. The existing Hong Kong Disneyland has been one of the major tourist spots as it has been the only Disneyland theme park in the Greater China region since its opening in 2005 (and indeed the only one in Asia besides Tokyo). However, the theme park in Hong Kong will face direct competition from Shanghai Disney which is expected to open in 2016. A significant amount of mainland visitors will be attracted to the new theme park in Shanghai, lessening their interest in travelling to Hong Kong.
By the Economist Database Team
Discuss this post
and many other topics in our
LinkedIn Group
(you must be a LinkedIn member to participate). Request a
Free Trial Subscription
.
Back to Blog