CEIC News@lert: Expansion of India Premium Database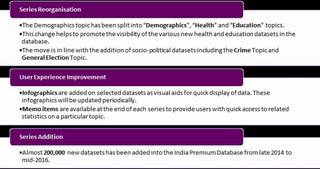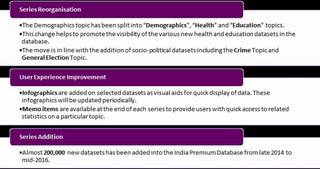 CEIC News@lert - August 11, 2016 The CEIC Database Team is pleased to announce the completion of a major expansion in the CEIC India Premium Database. Expansions to the India Premium Database have continued since late 2014 with a revamp of the series organisation, the addition of various new series to the database, and other enhancements to make it easier for users to access the data.
KEY CHANGES TO THE DATABASE
The Revamped India Premium includes new features to improve data visualization and to increase the breadth and depth of the database. These features include:
ADDITION OF NEW SERIES
In our commitment to bring users with the most up-to-date and relevant datasets, the CEIC Database Team has added new datasets across 33 different CEIC Topics. Of note are the additional 62,391 foreign datasets with in-depth coverage on 8-digit HS code items, comprehensive mining and manufacturing datasets, and various other industrial datasets on India's economic sectors.
USER EXPERIENCE IMPROVEMENTS
To improve the accessibility of the datasets, CEIC India Premium Database includes new features that help users develop a fuller understanding of the datasets. These features include: 1. Memo Items
Memo Items are located at the last section of each topic and comprise key auxiliary statistics related to the main topic. These statistics are compiled to allow users quick access to related series at a convenient and easy-to-locate position. 2. Comprehensive Footnotes
The India Premium Database provides users with quick access to relevant footnotes and addenda. These footnotes provide users with context on the datasets. Where necessary, some footnotes may include data definition, methodology and other pertinent information. 3. Infographics
Infographics are added into the CEIC India Database for all datasets. These infographics add a layer of data visualisation and provide users with a quick insight into the particular topic. Discuss this post and many other topics in our LinkedIn Group (you must be a LinkedIn member to participate). Request a Free Trial Subscription. Back to Blog>Summary