CEIC News@lert: Equity Market Awakening in Central and Eastern Europe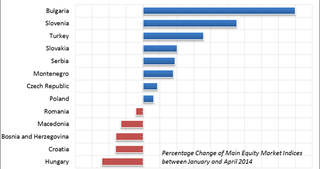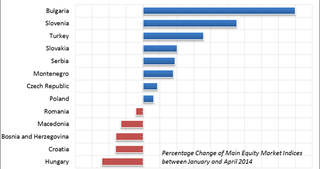 May 8, 2014 - OVERVIEW
Since the mid-1990s, prospects of EU membership and improved market integration have significantly benefited the equity markets across Central and Eastern Europe (CEE). In most countries the expansion has been fortified by strong economic growth, a surge in international investor interest and improvements in the regulatory framework. However, due to the draining debt crisis in the Eurozone that started in 2008, demand for securities across CEE plunged, causing significant damage to equity markets in developing European states. A few years down the road the economic situation in the European Union (EU) is improving, while the stock exchanges in CEE are starting to recover some of their pre-crisis vigour.
Generally, the financial markets in the region have been showing a positive trend since the beginning of 2014. The most notable equity market performance has been registered in Bulgaria where the SOFIX index surged by 22.47% during the first four months of this year. The main index in Slovenia also recorded double-digit growth (13.86%), while comparative indices in Turkey and Slovakia increased by 8.95% and 5.06%, respectively. In the last days of 2013, Borsa Istanbul became a shareholder of the Montenegro Stock Exchange by acquiring 24.39% of its capital, which was one of the main drivers of MONEX20 in the first months of 2014. That said, the main equity market index of the former Yugoslav republic registered a cumulative return of 4.48% for the same period. The stock market in Serbia recorded a 4.73% growth, while the main indices in the Czech Republic and Poland increased by about 2%. The positive trends, however, do not involve all CEE countries. On the Hungarian stock market, the blue chip index BUX plunged to 17434.53 basis points, losing 6.08% between January and April 2014. The main indices in Croatia (-4.06%), Bosnia and Herzegovina (-4.01%), Macedonia (-3.26%) and Romania (-1.07%) followed the same negative trend.
However, equity market dynamics across the CEE region are highly dependent on developments in the European Union. The strong positive correlation between the MSCI EU Index and MSCI Emerging and Frontier Market Index for Central and Eastern Europe shows that CEE states are much more sensitive to changes within the EU than to global factors, such as the tapering of the US Federal Reserve's quantitative easing programme and the ensuing capital flight from Emerging Markets. Both indices have increased by 3.37% and 1.42%, respectively since the beginning of the year.
Discuss this post
and many other topics in our
LinkedIn Group
(you must be a LinkedIn member to participate). Request a
Free Trial Subscription
.
Back to Blog