CEIC News@lert: Disinflation in the Netherlands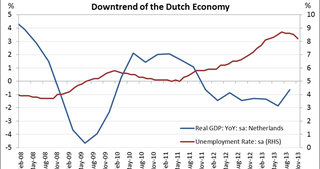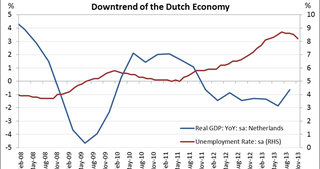 January 13, 2014 - The Netherlands, one of the large economies in the eurozone in terms of gross domestic product (GDP), is still struggling to recover from the global financial crisis of 2007/08 and the European debt crisis of late 2009. The country's GDP registered a year-on-year (yoy) decline of 0.64% in the third quarter of 2013, the eighth consecutive quarter of negative growth. Despite the dismal trend, the pace of contraction slowed by 1.22 percentage points compared to the previous quarter. Moreover, like that in most European countries, the Dutch seasonally-adjusted unemployment rate has steadily been increasing since mid-2011 and in July 2013 reached a record high of 8.7% since 2003. The figure has since decreased by 0.5 percentage points, but was still high at 8.2% in November 2013.
The high unemployment rate is one of the causes (and symptoms) of weak demand within the eurozone and the slowdown of the inflation rate (disinflation). The Netherlands is no exception. The inflation rate decelerated by 1.61 percentage points in a four-month period - from 3.08% in July 2013 to 1.47% in November 2013, even after the announcement of a cut in the main refinancing operations rate, the European Central Bank's (ECB's) policy rate, to 0.5% in May 2013. The reduced rate, however, failed to tackle the disinflation prevalent in the Netherlands.
In November 2013, the ECB announced a further 25 basis points reduction to 0.25%. This caused a 0.20 percentage point increase in the inflation rate to 1.67% in the last month of the year. The ECB remains positive on the eurozone's recovery prospects, as there is still room in adjusting the policy rate further if necessary.
Discuss this post
and many other topics in our
LinkedIn Group
(you must be a LinkedIn member to participate). Request a
Free Trial Subscription
.
Back to Blog