CEIC Macro Dashboard - July 2016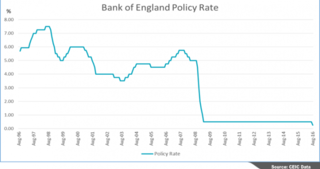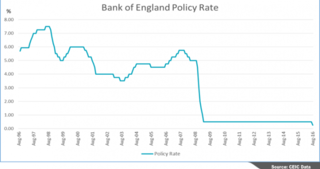 CEIC Gallery/World Economy - September 5th, 2016
Summary
The Macro Economic Dashboard is data from the CEIC Gallery which is a collection of macroeconomic templates to cover the world economy, emerging economies, thematic analysis and hot topics.
The Bank of England's Reaction to Brexit
The Bank of England's Monetary Policy Committee (MPC) voted for a package of measures designed to provide additional support to growth and to achieve a sustainable return of inflation to the target. This package comprises: a 25 basis point cut in Bank Rate to 0.25%; a new Term Funding Scheme to reinforce the pass-through of the cut in Bank Rate; the purchase of up to £10 billion of UK corporate bonds; and an expansion of the asset purchase scheme for UK government bonds of £60 billion, taking the total stock of these asset purchases to £435 billion. The last three elements will be financed by the issuance of central bank reserves.
The MPC sets monetary policy to meet the 2% inflation target, and in a way that helps to sustain growth and employment.
Consumer price index rose by 0.1ppt to 0.6% YoY in July, following an upward trend for second consecutive month. Different measures of core inflation, disregarding price changes for rather volatile items like seasonal food and energy, also show slowly rising consumer prices.
World of Economic Overview
Japan's Fiscal and Monetary Stimulus
In May the Bank of Japan (BoJ) introduced negative interest rates in line with its extraordinarily easy monetary policy. The central bank remain passive in June, but announced a new wave of monetary stimulus in the end of July.
In order to prevent the piling global uncertainties from leading to a deterioration in the economic activity of the country, the Policy Board of Bank of Japan decided to increase its purchases of exchange-traded funds to about 6 trillion yen annually, as well as to increase the size of its lending program to 24 billion USD for a period of up to 4 years, supporting Japanese firms' overseas activities through financial institutions.
Hours before the new wave of monetary stimulus was announce, the recently re-elected Japan's Prime Minister Shinzo Abe unveiled a surprisingly large 28 trillion yen (USD265 bn) fiscal stimulus package in attempt to reflate the world's third largest economy.
Gold Price Rise amid Global Uncertainty
Piling global uncertainties pushed investors to add gold to their portfolios as protection against future economic challenges.
In July gold price index increased by 18.5% YoY, reaching 109.14 points - highest value since September 2009.
Emerging Markets Monitor
China Non Performing Loan
Weak internal consumer demand and slowdown in GDP growth resulted in less investment return and hence higher non-performing loan in China.
Increase in SOE default due to stricter loan requirement from the banks and the government is also one of the factors.
China Fixed Asset Investment
China's fixed-asset investment (FAI) growth continued to slow towards the end of July.
According to the NBS, FAI for the first seven months grew 8.1% YoY to Rmb31.2 trn, down from the 9% YoY rise for the first half year.
YoY growth of private sector FAI further decelerated from an already weak 2.8% YoY rise for the first six months to only 2.1% YoY during the January-July period.
Latest Data Trends
Discuss this post and many other topics in our LinkedIn Group (you must be a LinkedIn member to participate). Request a Free Trial Subscription. Back to Blog Summary