CEIC China Data Talk: Construction Driven by Urbanization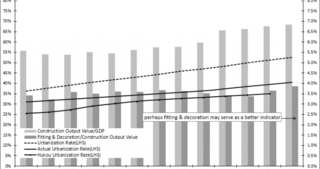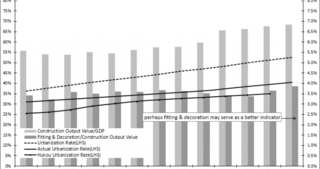 December 17, 2013 According to the reform blueprint of the 18th Central Committee's Third Plenum, China will accelerate the reform of the household registration system the Hukou system. This reform will lead to a speeding up of the country's future urbanization process. Urbanization will in turn, broaden the entire market of the construction industry. With the acceleration of urbanization and the growing demand for infrastructure, investment in various city-level construction projects will continue to grow. The construction industry will also continue its current strong growth momentum.
The output value of the construction industry was 5.4% of GDP in 2002 and has expanded to 6.8% in 2012. Of which, the fitting and decoration industry has shown a fast development in recent years, growing from being 3.4% of the whole construction industry in 2010 to 3.9% in 2012. Perhaps the output value of this sub-industry may serve as a better indicator. Although China's official urbanization rate is more than 52%, the actual rate is only around 40% after accounting for the floating population. Regardless of whether the urbanization rate is above 50% or not, there is still huge room for further development. The growth of the construction industry is especially significant when the urbanization rate stands below 70%. In the next 20 to 30 years, the output value of the construction industry will become a main component of GDP and the construction industry will be in the stage of rapid development over the next decade.
Discuss this post
and many other topics in our
LinkedIn Group
(you must be a LinkedIn member to participate). Request a
Free Trial Subscription
.
By The China Database Team
Back to Blog