CEIC Chart@lert: Tunisia: Mechanical and Electrical Industries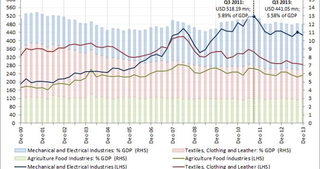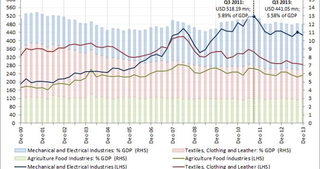 May 28, 2014 - HIGHLIGHTS: Owing to its industrial policies favouring export-oriented manufacturing of goods with high value added, the Tunisian economy has gradually undergone a structural shift from textiles, food and agriculture to mechanical and electrical manufacturing industries. However, growth in the key manufacturing sectors has slowed since 2011, mainly due to low external demand in Europe and increased political uncertainty within the country. Given the continuing depreciation of the Tunisian dinar against the major foreign currencies over the past few years, the dollar value of output in the mechanical and electrical industries declined from a peak of USD 518 million in the third quarter of 2011 to USD 441 million in the same period of 2013.
Detailed industry-level data of industrial production show that since 2000 growth has been concentrated in the electronics, electrical equipment and motor vehicles industries. However, activity in these sectors peaked during 2010-2012 and has since stagnated.
Mechanical and electrical goods, now the country's major exports, provided 37% of total export earnings in 2013.
The revival of economic activity in the euro area, Tunisia's major trading partner, is expected to support an increase in the country's industrial exports. Discuss this post and many other topics in our LinkedIn Group (you must be a LinkedIn member to participate). Request a Free Trial Subscription. Back to Blog