CEIC Chart@lert: Israel's Overheating Housing Market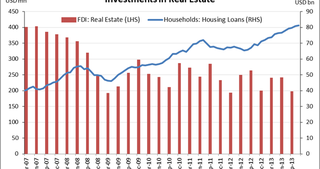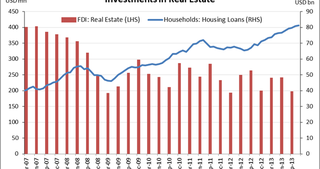 February 11, 2014 - The growth of the Israeli real estate market, which started in the beginning of 2007, is attributable to two main driving forces - foreign investment and domestic demand. In the first quarter of 2007 net Foreign Direct Investment (FDI) in the real estate sector in Israel reached over USD 400 million. Due to the global financial crisis and the European economic downturn those investments started to decline, and in the first quarter of 2009 inward FDI into real estate was just under USD 200 million - a reduction of more than 50%.
Many observers expected this to denote a cooling of the market, but this did not happen. A reduction of interest rates led to growth in consumer credit, which consequently brought increased domestic demand for real estate. Housing loans started to rise rapidly and gained 75.8% in USD terms from ILS 193.9 billion (USD 46.2 billion) in April 2009 to ILS 287.2 billion (USD 81.2 billion) in November 2013.
As a result, house prices increased by more than 83% during the same period with the dwellings price index (base 1993=100) reaching 330.3 points by October 2013. This led to the exclusion of many households from the housing market, as it became almost impossible to buy domestic real estate, despite the fact that the supply of new private dwellings increased to 16.4 thousand by the end of 2013 from a record historical low of 8.4 thousand in September 2009.
Discuss this post
and many other topics in our
LinkedIn Group
(you must be a LinkedIn member to participate). Request a
Free Trial Subscription
.
Back to Blog