Can Morocco Sustain Robust Growth Amid International Pressures?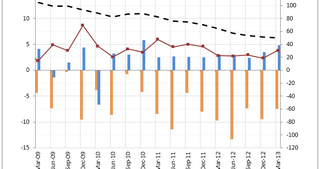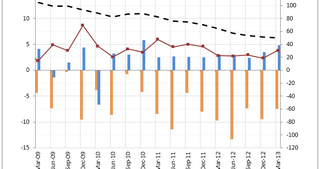 CEIC Macro Watch:
Morocco has long been lauded for its economic and social stability. The country has managed to evade the large-scale social unrest that has eroded other Arab countries' economies; it grew at a stable rate of 3.8% year-over-year during the first quarter of 2013.
However, recently the Moroccan economy is increasingly being threatened by global macroeconomic pressures. They include the ongoing sovereign debt crisis in Europe and the continuing social turmoil in the Arab world – Morocco's main trading partners. With demand for Moroccan exports plunging, the current account deficit reached 7.4% of Gross Domestic Product (GDP) in the first quarter of 2013. The situation is worsened by the relatively overvalued Dirham (MAD) vis-à-vis the Euro. While direct investment inflows into Morocco have remained resilient over recent years, and net Foreign Direct Investment amounted to 4.8% of nominal GDP in the first quarter of 2013, the pace of growth has been insufficient to finance the growing current account deficit. This has been accompanied by a gradual depletion of the country's reserve assets. In November 2012, foreign exchange reserves fell to MAD 126.7 billion - their lowest level since June 2004, when they totaled MAD 124.7 billion. Despite marginally increasing since, to MAD 143.7 billion as of May 2013, covering 4.4 months of import, the long-term downward trend has fuelled concerns. Meanwhile, total external debt, at 34.6% of nominal GDP in 2012, remains below the Middle East and Northern Africa average. Figures for 2012 show that Moroccan external debt has a favorable maturity profile, as short-term liabilities remain only a minor part of total debt, at a stable level of 4.2% of nominal GDP. This suggests that, at least for the time being, liquidity may not turn out to be an issue for the country.
Discuss this post
and many other topics in our
LinkedIn Group
(you must be a LinkedIn member to participate). Request a
Free Trial Subscription
.
By Stoyan Kiryazov - CEIC Analyst
Back to Blog