Brexit Template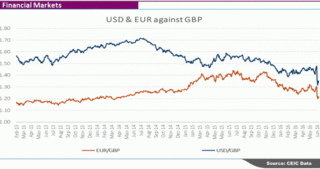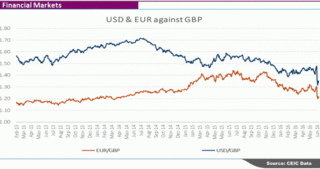 CEIC Gallery/Hot Topics - July 5, 2016
Summary
Brexit template is now available in CEIC Gallery under Hot Topics section. The template is an analytical tool covering all main economic implications of a possible British withdrawal from the European Union. Brexit template contains data and charts on the following topics:
Financial Markets (Daily data)
- FOREX Market – IMF SDR currencies vis-à-vis GBP - UK Equity Market – FTSE Index, Total Return, Market Cap, PE Ratio - UK Treasury Bills Average Yield - 10 year Government Bond Yield spread between UK, US & Germany - Commodity Market – Crude Oil, Silver & Gold
Capital Flows & Foreign Trade (Monthly & Quarterly data)
- UK Balance of Payments – Current & Financial Account - Foreign Trade Developments - UK Exports & Imports by Region - UK Exports to EU by Commodity Group
Banking Sector (Quarterly data)
- Monetary Financial Institutions Balance Sheet - UK Banks Income & Expenditure
Economic Growth, Inflation, Business & Consumer Confidence (Monthly & Quarterly data)
- Contribution to GDP Growth - Consumer & Producer Price Index - Harmonized Index of Consumer Prices - Exports & Imports Price Index - Retail Price Index - Business & Consumer Confidence
More data and dynamic charts related to the topic are available in the Global & WorldTrend Plus Databases
Discuss this post
and many other topics in our
LinkedIn Group
(you must be a LinkedIn member to participate). Request a
Free Trial Subscription
.
Back to Blog