Brexit Fears Drive Sovereign Debt Yield to Historic Lows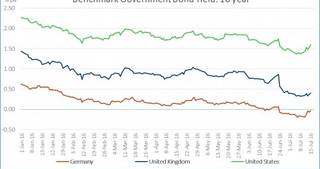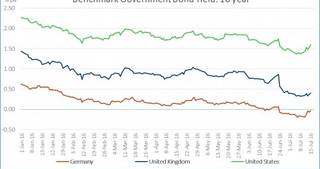 CEIC Gallery/Hot Topics - July 19, 2016 Yield on developed economies' sovereign debt has fallen to unprecedented levels in the past few weeks, since the referendum in the United Kingdom. The global downturn in yield momentum will likely be magnified by Brexit uncertainty and will probably be more pronounced, extending at least to the end of the year. In the end of June, a two-year British government bond yield even fell into negative territory for the first time in history, and Bank of England Governor Mark Carney suggested further stimulus for the economy can be expected over the summer.
The benchmark average interest rate for 10-year gilts reached its lowest point on July 8, falling to just 0.324%, thus losing more 1.1 percentage points this year. However, Bank of England surprised the markets by holding rather than cutting interest rates in its first board meeting since the referendum, and the 10-year gilt yield climbed to 0.397 on July 15. Treasury bill yields followed a similar trend. Benchmark German 10-year bond yield climbed to virtually zero last Friday for the first time since June 24, having dropped to a record-low -0.2% on July 6. US benchmark yield plunged to 1.37% (another historic low) on July 8 but rebounded to 1.6% by the end of last week.
More data and dynamic charts related to the topic are available in the CEIC Gallery: "Brexit" template Discuss this post and many other topics in our LinkedIn Group (you must be a LinkedIn member to participate). Request a Free Trial Subscription. Back to Blog>Summary