Belt and Road Initiative: Spotlight on Bangladesh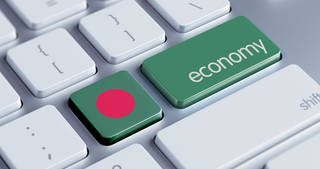 This report will start with the social and economic fundamentals of Bangladesh, then briefly review its trade, foreign direct investment (FDI), and current domestic infrastructure situation, and finally, it will discuss great opportunities for Sino-Bangladeshi capacity cooperation and introduce the business environment in Bangladesh.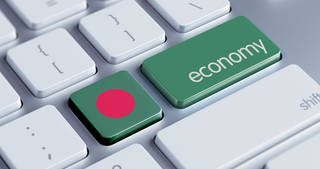 By Suyang Zhou - Research Analyst
Bangladesh is a pivotal country in China's Belt and Road Initiative and the Bangladesh-China-India-Myanmar (BCIM) Corridor. Ample workforce, a booming economy, expanding scale in trades, and capacity cooperation put the country in the spotlight. This report will start with the social and economic fundamentals of Bangladesh, then briefly review its trade, foreign direct investment (FDI), and current domestic infrastructure situation, and finally, it will discuss great opportunities for Sino-Bangladeshi capacity cooperation and introduce the business environment in Bangladesh.  
Social and Economic Fundamentals
Among the strategic corridors under the Belt and Road Initiative, the BCIM Corridor deepens economic and trade ties between China and south Asian countries and bridges the gap between China and the window to the Indian Ocean — the Bay of Bengal. Bangladesh is a crucial country along the BCIM Corridor. Geographically, over 80% of the territory is arable flatlands, dotted with numerous rivers. Such endowment holds the potential to develop a well-planned transportation infrastructure.  
Route of the BCIM Economic Corridor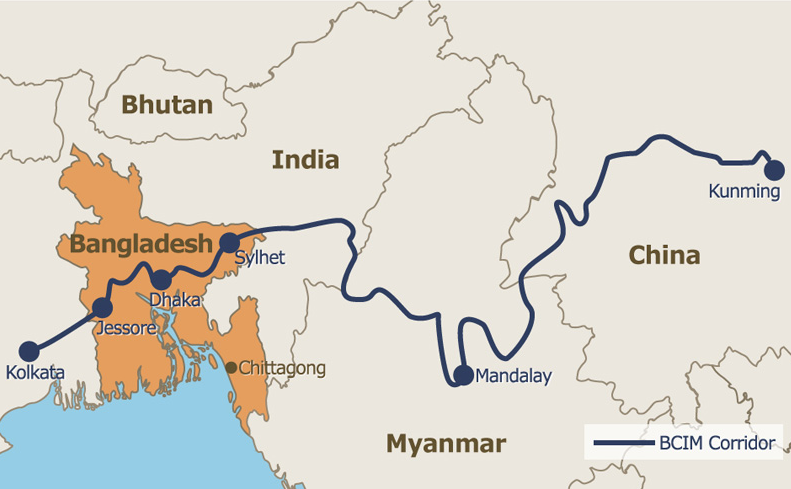 As one of the most heavily populated countries in the world, Bangladesh is home to more than 160 million people. Its GDP per capita is USD 1,538, less than a fifth of that in China. However, abundant and cost-effective labor has turned Bangladesh into a well-known manufacturing base for clothing products, and its fast-rising urbanization rate has brought increasing demand for commodity goods, services, and infrastructure development. Now, Bangladesh is one of the most dynamic countries in south Asia, with annual GDP expansion of 7%. Huge potential in urbanization and domestic demand will bring sustainable growth to Bangladesh in the foreseeable future.   

According to an industrial breakdown, Bangladesh's secondary industry only accounts for 28.8% of its whole economy and is dominated by labor-intensive light industry, such as clothing. However, heavy industrial products, such as steel and machinery equipment, are largely imported. From the perspective of GDP expenditure, 75% of Bangladesh's GDP is used for final consumption, leading to deficient savings and investment as well as a trade deficit.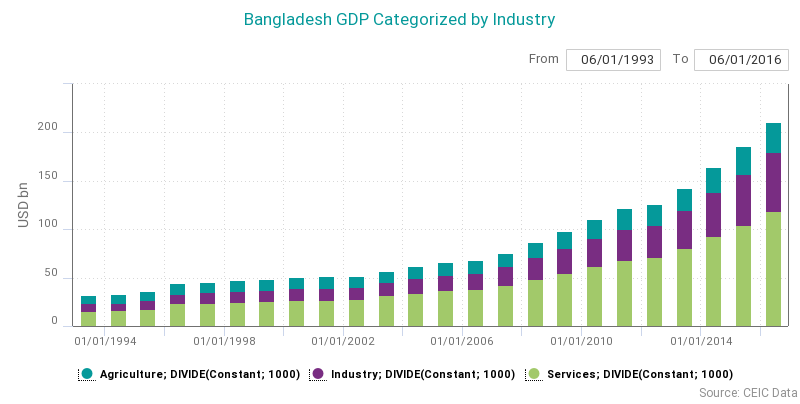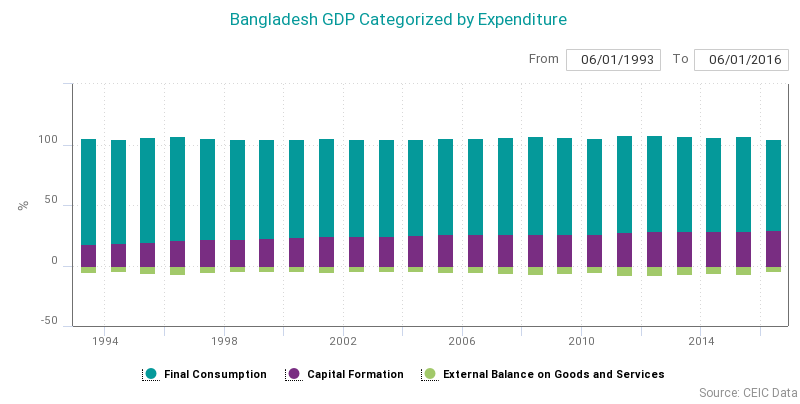 Trade Deficit and Clothing Exports
Bangladesh imported USD 14.7 billion of products from China in 2016, most concentrated in metal products, machinery and electronic equipment, and textile products. China has become Bangladesh's largest trade partner, accounting for 26.3% of its total imports and surpassing the aggregated share of the second, third, and fourth largest partners of Bangladesh.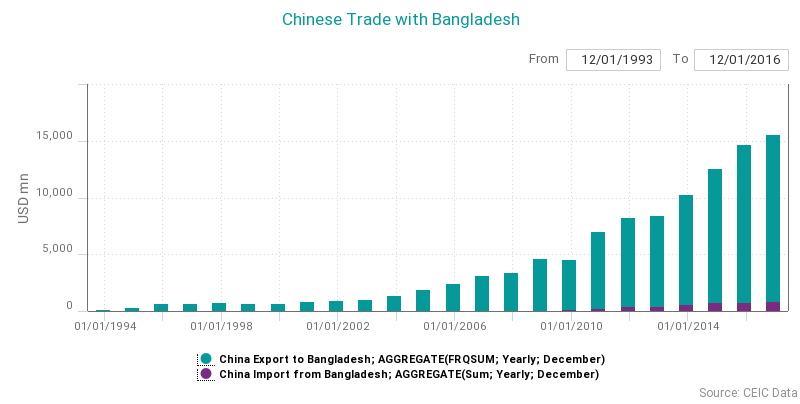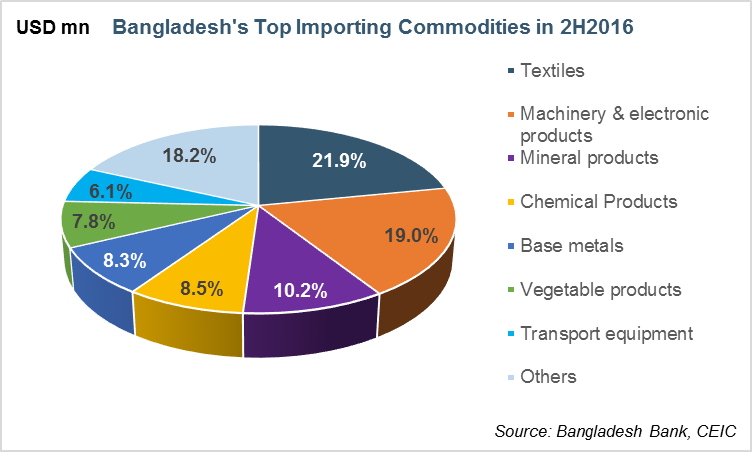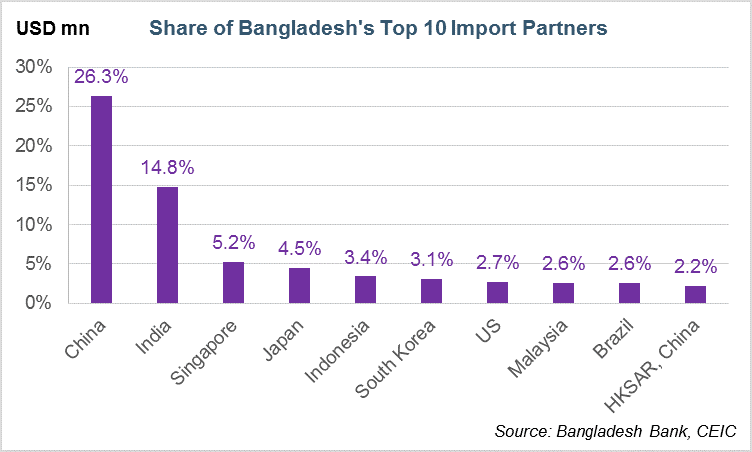 However, Bangladesh only exported USD 860 million to China in 2016, most of which were ready made garments (84%), leather (3.3%), and frozen aquatic products (2%). In 2015, Bangladesh exported up to USD 28 billion of ready-made garments and was the second largest clothing manufacturer (following China), making up 6.2% of world's clothing exports.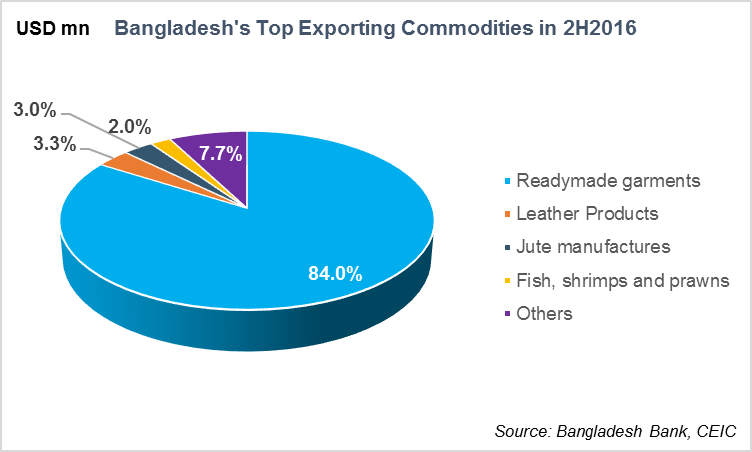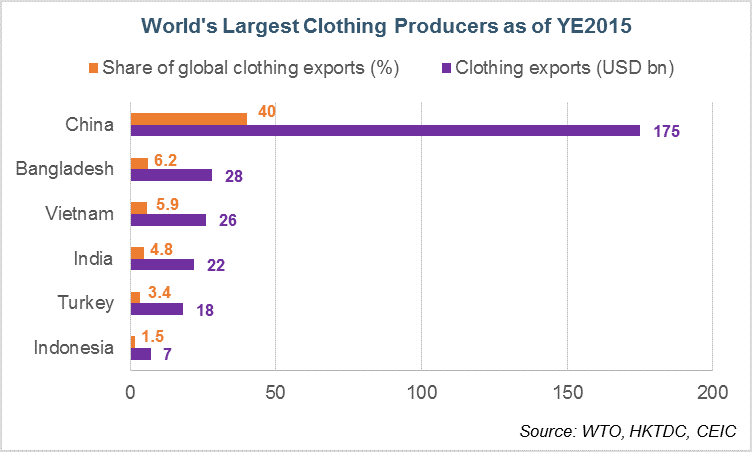 Foreign Investment
According to statistics from Bangladesh Bank, the country attracted USD 2.83 billion of foreign direct investment in 2016, up 4.8% y-o-y. China was the 10th largest investor in Bangladesh, with USD 81 million FDI, only accounting for a ninth of Singapore's investment.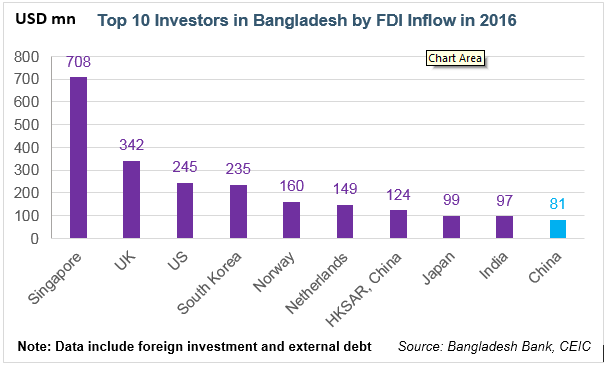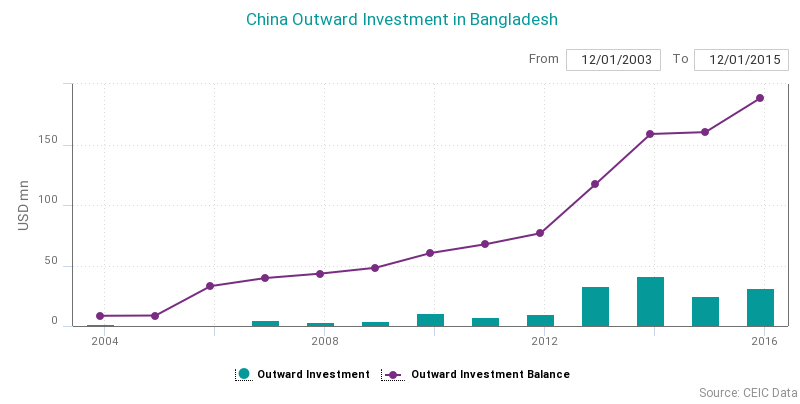 For industrial breakdown, Chinese enterprises invested heavily in textile and wearing (USD 20.23 million), leather products (USD 8.57 million), and trading (USD 5.5 million).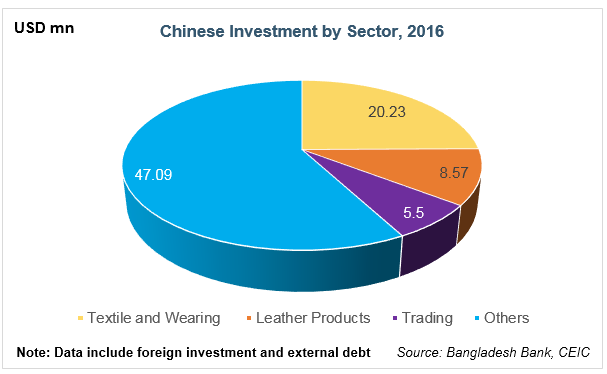 As of year-end 2016, Bangladesh had USD 14.54 billion of FDI stock, of which gas and petroleum (USD 3,727 million), textile and wearing (USD 2,564 million), banking (USD 1,920 million), and telecom (USD 1,468 million) were the four sectors with the most foreign investment.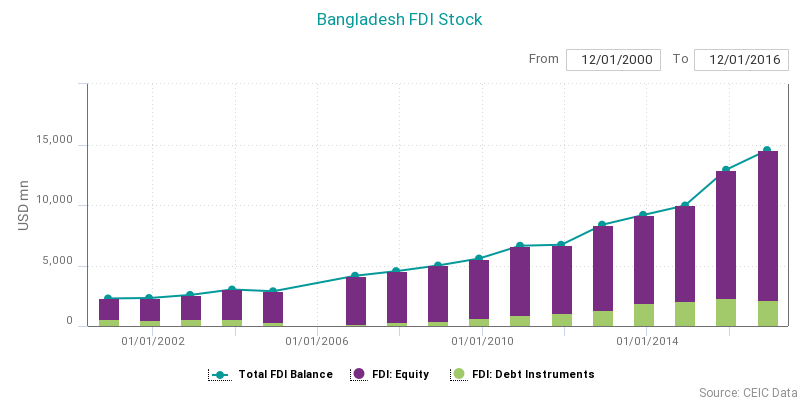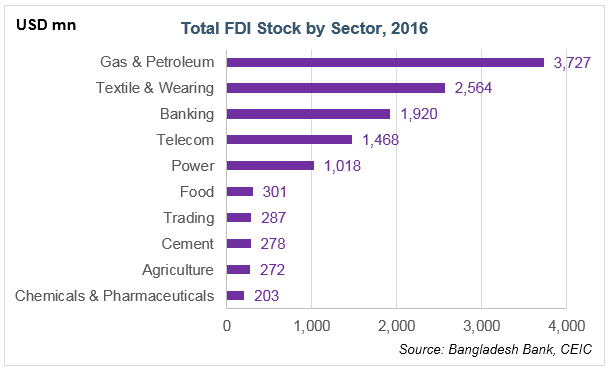 Opportunities of Sino-Bangladeshi Capacity Cooperation
The capital formation of Bangladesh contributed to less than 30% of domestic output, while the ratio in China was around 45%. As such, Bangladesh's infrastructure is underdeveloped and hence holds great potential for enhancement. In recent years, China has brought an increasing number of engineering contracts to Bangladesh. According to the Chinese Ministry of Commerce, Chinese enterprises signed USD 4.95 billion of contracts (+30% y-o-y) in 2015 and completed USD 1.75 billion (–1.5% y-o-y) of contracts, most of which were infrastructure and energy projects. By contrast, direct investment is still in small scale. In the following, we'll analyze the investment opportunities of Sino-Bangladeshi capacity cooperation from four angles.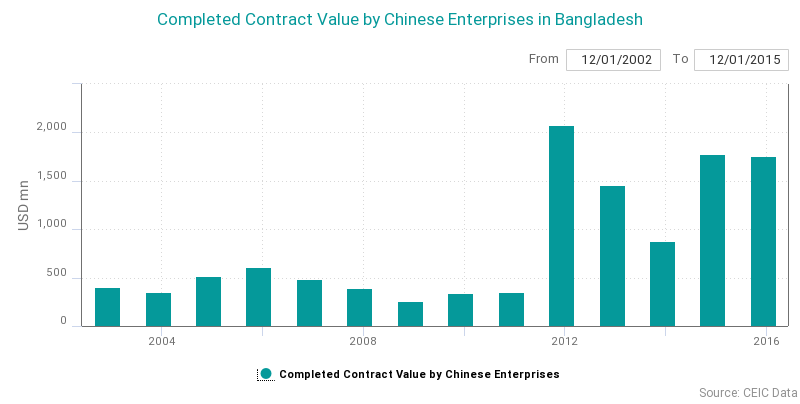 Transportation: Bangladesh currently has 21,000 km of roads, over 60% of which are underdeveloped country roads, while the length of more sophisticated national and regional highways is about 8,000 km. In other words, there are less than 50 km of highways for every million people.  
Highway Length in Bangladesh

As for rail infrastructure, Bangladesh had 2,835 km of railway as of year-end 2015, or equivalently only 18 km per million people. In the meantime, Bangladesh hasn't developed metro or intercity rail systems. As for cross-border transportation, Bangladesh has some rails connected with India, but it is lacking in rail line linking to Myanmar. Thus, Bangladesh has huge room for development of its transportation network, both home and abroad. With mature technology and building experience, Chinese enterprises can step in through public–private partnerships (PPPs) or build-operate-transfer (BOT) channels and could expand exports of trains or engineering equipment.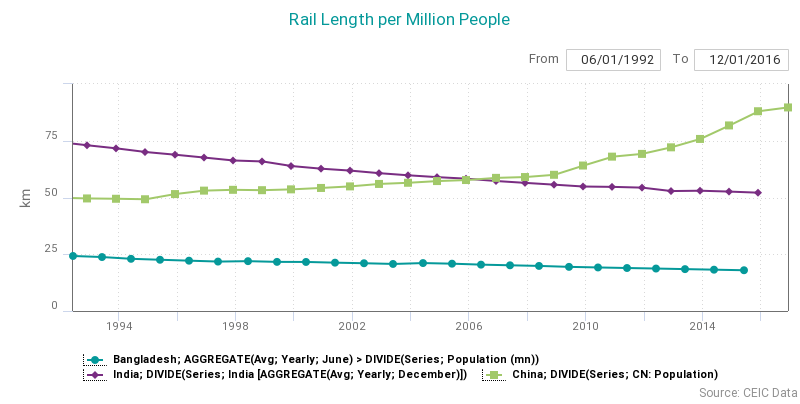 Telecom: Bangladesh had 4.9 million fixed broadband users as of year-end 2015; the broadband penetration rate (number of broadband users per 100 people) is only 3%. By contrast, mobile phones are more popular in the country, as there are over 130 million mobile users. Therefore, the telecom sector in Bangladesh is a big market for China. Chinese telecom enterprises can engage in construction and operation of broadband infrastructure in Bangladesh to enhance the accessible rate. Additionally, companies could cooperate with local telecom service providers via investment, corporate merger, or operational franchise.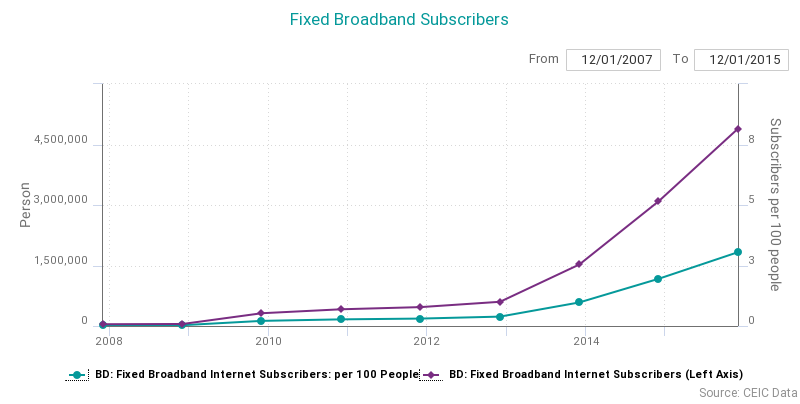 Electricity: Bangladesh has long suffered from power deficiencies, although the power supply has expanded quickly in recent years. Annual electricity consumption is around 300 KWh per person, just 8% of that in China. As of year-end 2014, 38% of the Bangladeshi population (50% of rural population and 10% of urban population) lacked access to electricity power. The shortage of power supply seriously limits industrial capacity in Bangladesh.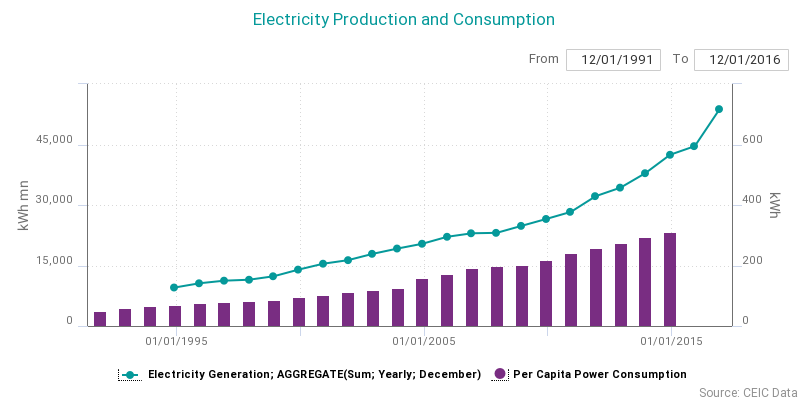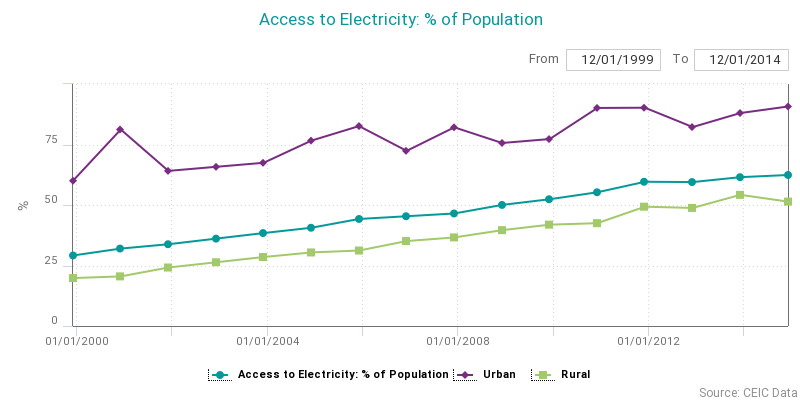 Bangladesh has rich natural gas resources, which account for 82% of power generation; oil (14.7%) is the second largest source for electricity output. The rest of the electricity supply comes from coal, hydro power, and renewable sources.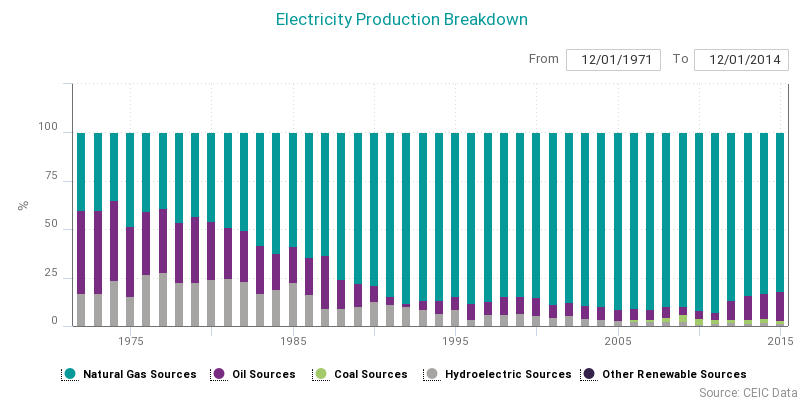 Bangladesh aims to boost power capacity to meet increasing electricity consumption amid fast economic growth. According to the Chinese embassy in Bangladesh, the country plans to double power capacity to 24,000 MW by 2021 and further expand to 39,000 MW by 2030. Most of the incremental capacity will come from coal and natural gas burning. Meanwhile, Bangladesh will increase annual per-capita electricity consumption to 400 KWh in fiscal year 2020–2021, hence allowing all citizens to access electricity power.  
Currently, Chinese enterprises are mainly engaged in engineering contracts in the electricity sector of Bangladesh, but very few invest directly. So far, China has invested in two large power plants. One is the Payra plant, which has capacity of 1,320 MW and investment of USD 2.5 billion. The other is a coal-burning power plant, with USD 2.4 billion investment, and 30% of shares are held by a Chinese company. The huge gap between supply and demand makes Bangladesh's electricity sector appealing to foreign investors. Chinese enterprises can take advantage of the Belt and Road Initiative and favorable investment policies by the Bangladeshi government. As well, Chinese companies have a comparative edge in technology, capital, and talent. Thus, interested companies may expand investment and promote bilateral cooperation in energy sector.
Automobile: Very few Bangladeshi people own private cars: 416,000 motor vehicles were registered in Bangladesh last year, of which merely 20,304 were private cars. Given the huge population of over 160 million and the fast-growing national income, Bangladeshi demand for motor vehicles is expected to see explosive growth. This creates many attractive opportunities for Chinese auto companies to tap into the local market.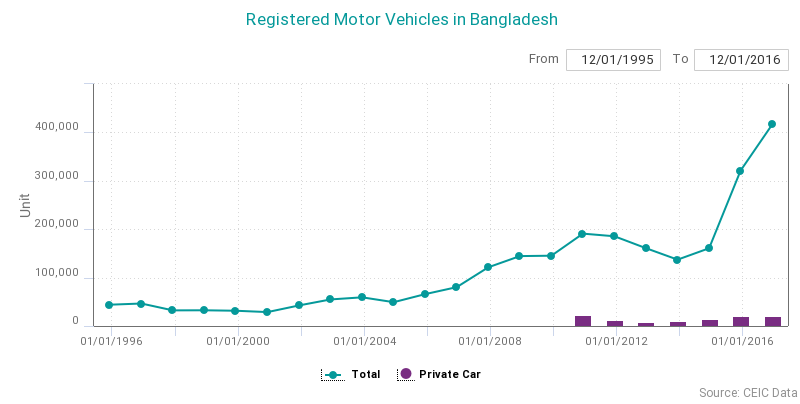 Business Environment

Financing cost: The lending rate in Bangladesh was 10.4% on average last year and has declined in recent years. However, there is still big difference in lending rates between large and medium enterprises (LMEs) and small enterprises. According to data from the Chinese Ministry of Commerce and the Chinese Embassy in Bangladesh, annual borrowing costs for LMEs range from 12.5% to 17.5%, while small companies borrow at 19% per year. Given that foreign enterprises are treated the same as local enterprises, the barriers of high borrowing cost and complex procedures, Chinese companies in Bangladesh typically don't borrow from local banks.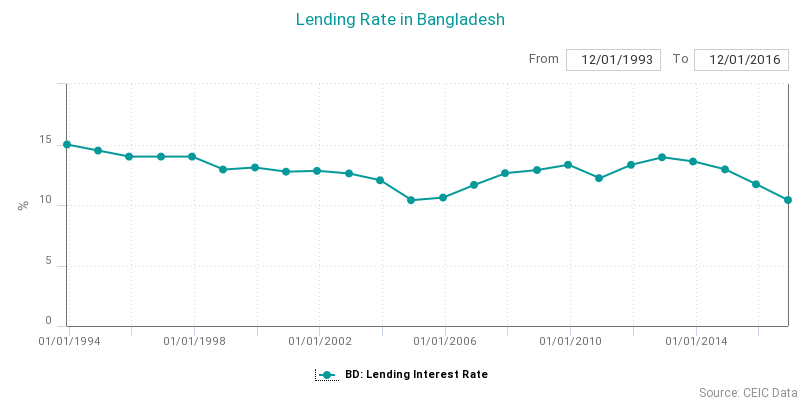 Business Costs
Electricity Price: The price of electricity for commercial use is 9.8 takas per KWh (CNY0.83), 11.98 takas (CNY 1.02) in peak hours, and 8.45 takas (CNY 0.72) in off-peak hours. The minimum charge is 125 Takas (CNY 10.6). The package is not cheap given the local income level.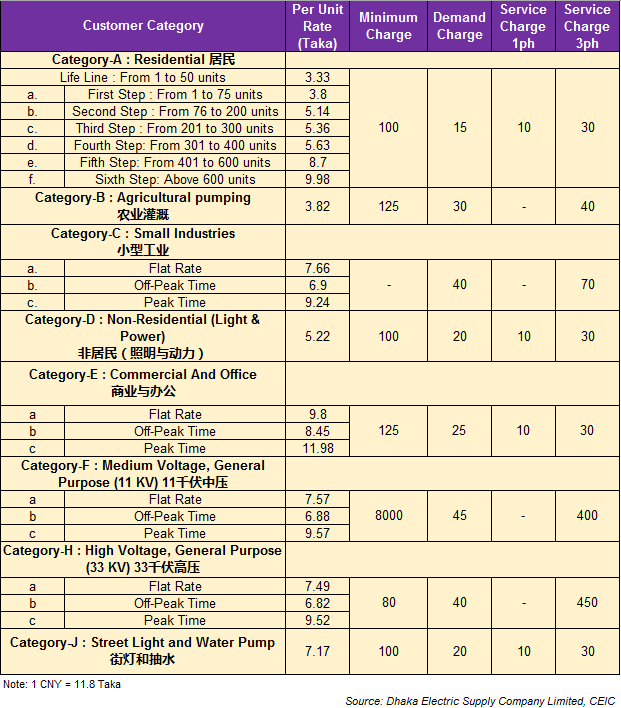 Fixed Broadband Price: According to BTCL, there are four packages providing different speeds, monthly charges range from 300 to 1,000 takas (CNY 25.4–84.7).

Labor Cost: Finally, Bangladesh has highly competitive labor costs compared with other developing countries in Asia. Ordinary Bangladeshi workers earn USD 120 per month, on average (the minimum monthly wage in Bangladesh is 5,300 takas, approximately USD 68). As such, Bangladesh is able to offer a competitive labor market to develop large-scale manufacturing and receive transfers of labor-intensive industries.  

This analysis was undertaken using the China Premium Database which is available for customers via CDMNext or via a 10 day free trial.

Country