Asia's Emerging Market Currencies Depreciate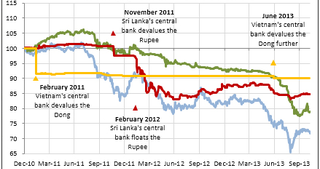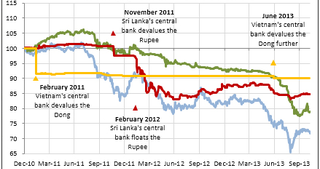 CEIC Macro Watch, November 29, 2013:
As investors anticipate an end to the era of cheap liquidity, emerging market economies (EMEs) are seeing large capital outflows due to perceptions of increasing risks (notwithstanding their growth potential) relative to their developed counterparts. This, in turn, has led to a sharp depreciation of the EMEs' currencies – several Asian countries (including Vietnam and Sri Lanka) under managed currency regimes were obliged to devalue their currencies during 2011-2013. After the US Federal Reserve Board's June 2013 announcement that it may taper its quantitative easing programme, the Indonesian rupiah and Indian rupee in particular depreciated sharply, declining from IDR 9,811/USD and INR 56.574/USD, respectively, at the beginning of June 2013 to approximately IDR10,278/USD and INR 61.115/USD by the end of July.
Although a depreciating currency may be conducive to an improvement in trade competitiveness, sharp depreciation impedes the respective central banks' efforts to rein in inflation (especially concerning food and commodities), due to rising import prices. A relatively under-developed manufacturing sector with poor supply and distribution networks also limits many of the advantages arising from currency depreciation in EMEs.
By Chan Yee Lui
- CEIC Analyst
Discuss this post
and many other topics in our
LinkedIn Group
(you must be a LinkedIn member to participate). Request a
Free Trial Subscription
.
Back to Blog