Argentina's Peso suffers its Sharpest Depreciation since the 2002 Debt Default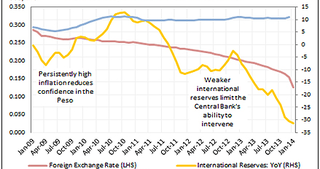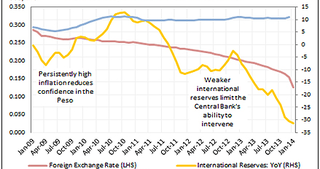 CEIC Macro Watch - February 28, 2014 -
On January 24, the Argentinian Peso saw one of its largest one-day depreciations since the country's debt default in 2002. The Peso plummeted to ARS 8.000/USD from ARS 7.750/USD on the previous day, and ARS 6.545/USD at the beginning of 2014. This came as little surprise, as the double-digit decline of Argentina's foreign currency reserves since late 2011 meant that further support of the peso by the Central Bank had become increasingly unsustainable; Argentina's foreign currency reserves stood at USD 24.83 billion as of December 2013, down from USD 36.62 billion in December 2012. The dire economic situation was exacerbated by Argentina's high inflation (which officially stood at 10.94% year on year as of December 2013).
The peso is expected to depreciate further as the Central Bank has relinquished its support for the currency. In the meantime, the Kirchner government has installed new measures to stem further depletion of the country's foreign currency reserves. These measures include restrictions on online shopping - an annual limit imposed, amid high tax and other surcharges, on online purchases from abroad.
By Darlene Tamayo in the Philippines - CEIC Analyst
Discuss this post
and many other topics in our
LinkedIn Group
(you must be a LinkedIn member to participate). Request a
Free Trial Subscription
.
Back to Blog