2016 in Figures - United States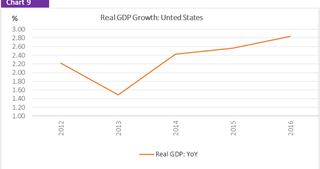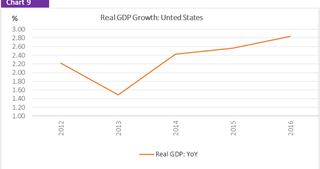 CEIC Gallery/World Trend Database/Hot Topics - 2016 Figures/Part 2 - January 14, 2016
√
In nominal terms the
US economy
will increase from USD 17.9 trillion in 2015 to USD 18.7 trillion in 2016. Real GDP growth will increase to 2.8% from 2.6% in 2015 and 2.4% in 2014.
√ Investment
will continue to increase and will reach 20.6% of GDP from 20.3% in 2015. However, the share if investment gross investment-to-GDP ratio will remain far from its pre-crisis levels. Despite the shrinking negative output gap since 2013, the US economy will remain below its potential level.
√ Gross national saving
will decrease for the second consecutive year after the 8-year peak of 18.8% of GDP in 2014. In 2016 gross national saving will fall to 17.6% of GDP from 18.2% in 2015.
√
Although the
unemployment rate
is expected to fall to less than 5% in 2016, it will remain above the pre-crisis levels.
√ Inflation
will increase from 0.1% in 2015 to 1.2% in 2016.
Note: The charts above show highlights of the latest International Monetary Fund's forecasts for 2016. Data series are obtained from CEIC's Global Economic Monitor, Regional and Country Forecast datasets.
Discuss this post
and many other topics in our
LinkedIn Group
(you must be a LinkedIn member to participate). Request a
Free Trial Subscription
.
Back to Blog